Targets of buyouts see shares dive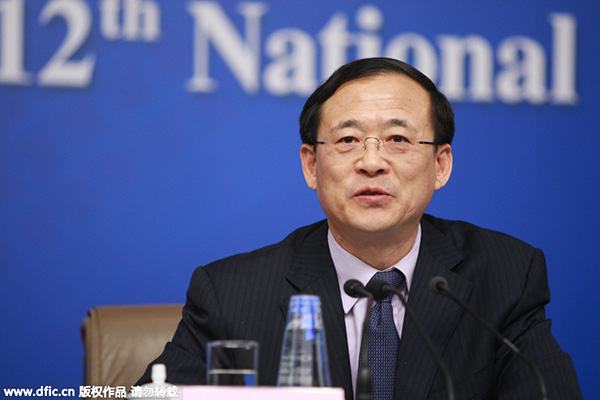 Liu Shiyu speaks at a press conference of the first session of 12th National People's Congress (NPC) in Beijing, China, March 13 2013. [Photo/IC]


Regulator suspends several insurers' sales to rein in risks of leveraged acquisitions
Shares of Chinese companies involved in leveraged acquisitions plunged on Monday, after the country's top securities regulator condemned the "barbaric" buyouts of listed companies by speculative capital.
Gree Electric Appliances, the country's biggest air conditioner producer, tumbled by the 10 percent daily trading limit, while China State Construction Engineering Corp, the country's biggest construction company, suffered a 9.15 percent loss. Both companies have been among the targets of the latest stake-buying spree by aggressive and cash-rich insurance funds in the equity market.
To rein in the risks associated with the surge of aggressive buyouts by insurance funds, China's insurance regulator suspended on Monday the sales of new universal life insurance policies by Foresea Life Insurance Co, the insurance arm of private conglomerate Baoneng Group, which is known for its aggressive purchase of China Vanke Co's shares in the public market, which resulted in a power struggle within the developer.
The regulator said in a statement on its website that it has suspended online sales of insurance products from six major insurers, adding that it will closely follow developments in the market and will take additional regulatory measures if necessary.
It was the latest move by the regulator to adopt tighter control of stock investment by insurance funds and to curb the risks in deals using capital raised from high-yielding and short-term insurance products.
Chinese media reports cited unnamed sources in the industry saying that the securities regulator has collected evidence of illegal insurance funds used in some buyout deals.
Liu Shiyu, chairman of the China Securities Regulatory Commission, lashed out at the leveraged buyouts of listed companies, during a financial industry meeting over the weekend. He called some institutions "barbarians at the gate" and "robbers of the industry" who have challenged the bottom line of the country's legal and financial system.
The securities chief questioned the source of their capital, saying that the use of "improperly obtained" capital for leveraged trading is "unacceptable".
The comment from the top regulator caught the stock market by surprise, prompting investors to sell their holdings on Monday.
"The comments are surprisingly harsh, but with good intention to protect smaller shareholders. It is aiming at the speculative use of capital that may have been sourced inappropriately," said Hong Hao, chief strategist at BOCOM International in Hong Kong.
Hong said that the potential tightening of control by the regulators on the open market purchase of listed companies will mean less support for the share prices, which could in turn pressure the overall A-share market.
The benchmark Shanghai Composite Index fell by 1.2 percent on Monday as market sentiment worsened after Italy rejected a constitutional referendum.
The latest wave of controversial purchases of listed companies' stakes by insurance funds "have helped fan the speculative mood in the market, which is harmful for the capital market's long-term and healthy development", said Zheng Mingang, an analyst at Dongxing Securities.