New net finance firm nears profit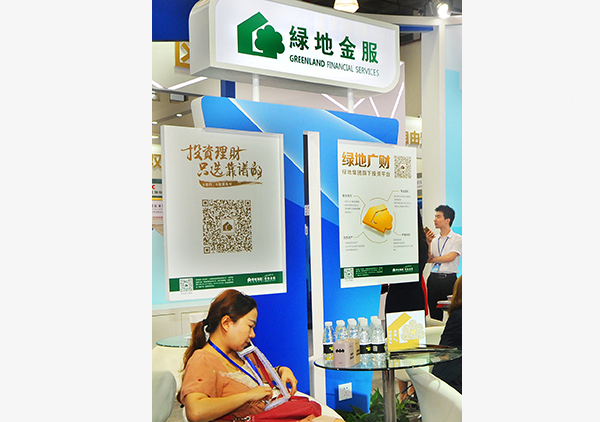 Greenland Financial exhibits at an expo in Shanghai. [Photo/China Daily]
A one-year-old internet finance firm from the stable of Greenland Group, a Chinese mainland developer, is on the verge of full-year "positive profit".
That will make the mainland's property market sit up and take notice as its profit margins have gradually decreased after the last home price boom.
The Greenland arm's imminent profit will also likely vindicate mainland developers who have been expanding into the internet finance sector in search of new market opportunities.
Greenland Financial Information Services is the subsidiary of Greenland Hong Kong, the listed unit of Greenland Group. Greenland HK CEO Chen JunIt said the internet finance arm was established last year, in line with the group's "real estate plus internet service" strategy, which emphasizes shifting from an asset-heavy model to an asset-light model.
Land development is traditionally an asset-heavy business, for the developers need to buy the land before developing projects, which means they rely heavily on the company's own capital.
Asset-light model refers to those internet finance businesses where relatively few capital assets are required compared with their operations. The asset-light model can lower profit volatility, provide greater flexibility, and higher cost savings compared with the asset-heavy one.
Greenland Financial has formed three main business sectors: one, an online wealth management platform, providing various investment products for all users; two, professional assets allocation and wealth management services for middle-class clients; and three, a cloud platform to provide internet technology and data analysis services.
With more than 500,000 registered users, the wealth management platform has seen its transaction volume approaching 20 billion yuan ($2.94 billion).
Greenland Financial manages more than 5 billion yuan in assets and sells mostly bond-type real estate wealth management products.
"Although the company is only one year old, we are going to post positive profits at the end of this fiscal year, which is rare among financial services companies," said Yang Xiaodong, president of Greenland Financial.
"Backed by Greenland Group's enormous assets and a customer base of 15 million clients, the company's revenue and profit will double each year over the next two to three years. I am confident about that. And I hope after three years, the company will seek listing on the capital market."
Steven Jia Fei, vice-president of Greenland Financial, said the company will focus on data analysis services next year and strengthen precision advertising services to target potential customers.
Greenland Hong Kong has also signed cooperation agreements with Guangxi Railway Investment Group and China Cinda Asset Management to invest in mainland real estate projects.