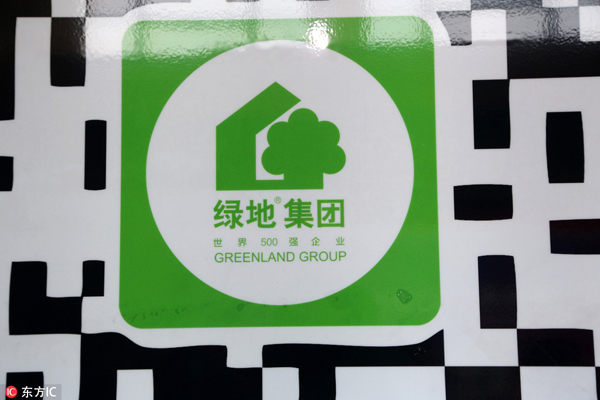 A logo of Greenland Group is pictured during a real estate fair in Shanghai, October 3, 2014. [Photo/IC]
LOS ANGELES - Chinese leading real estate company Greenland announced on Thursday that it plans to invest more than $1 billion in a joint venture to build a large-scale biotech industrial park in South San Francisco.
Greenland USA, the subsidiary company of Greenland Group, acquired the Oyster Point landing project together with its equity partner Ping'an Trust, and minority equity partners Agile Group and Poly Sino Capital Limited.
The project, located in South San Francisco, the world's premier biotechnology innovation hub, which has attracted more than 240 biotechnology companies, covers a waterfront area of 42 acres (about 170,000 square meters).
"The US continues to play a critical role in our overseas expansion and we look forward to what will be a landmark property," said Zhang Yuliang, Chairman of Greenland Group.
Greenland USA is the majority shareholder in the joint venture, and Hu Gang, the CEO of Greenland USA was named as Chairman of the venture, Oyster Point Development.
"Greenland USA is committed to the long-term health of the properties and communities we develop and we saw early on, with the support of the City of South San Francisco, that there was tremendous potential for growth in Oyster Point," said Song Taotao, the Executive Vice President of Greenland USA was named as new company's CEO.
Song said the project will cement South San Francisco's role as the world's leading biotech hub by creating a best-in-class campus that will stimulate and sustain its economic and social fabric.
The project will be completed in several phases, with Phase I compromising approximately 500,000 square feet (about 46,500 square meters) in the southern part of the property, according to Greenland USA. Construction is expected to begin by mid-2018, following necessary infrastructure improvements by the City of South San Francisco, including streets, utilities and grading.
Mark Addiego, Mayor of South San Francisco, said "The development of Oyster Point presents tremendous opportunity for the South San Francisco community and Greenland USA has approached it with the vision, expertise and energy needed to bring it to fruition."
The Oyster Point project is the Chinese developer's third big investment project in the US, following Greenland USA's over $1 billion investment in Los Angeles' Metropolis and over 6 billion dollars investment in New York's Pacific Park Brooklyn.