Vancouver tax pushes Chinese to Seattle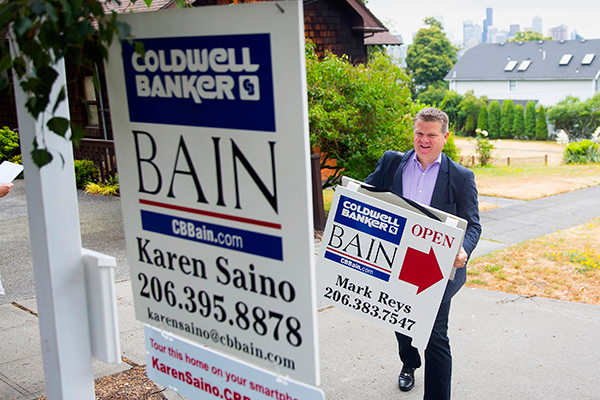 Coldwell Banker Bain real estate broker Mark Reys prepares to hang an "Open House" sign outside of a home for sale in Seattle. [Photo/Agencies]
Just a few days after Vancouver announced a tax on foreign property investors, Seattle real estate broker Lili Shang received a WeChat message from a wealthy Chinese businessman who wanted to sell a home in Canada and buy in her area.
After a week of showings, he purchased a $1 million property in Bellevue, across Lake Washington from Seattle. He soon returned to buy two more, including a $2.2 million house in Clyde Hill paid for with a single cashier's check.
Shang said she's been inundated with similar requests from the Chinese mainland and Hong Kong after Vancouver's provincial government enacted a 15 percent tax on foreign homebuyers in August to help cool soaring real estate values. With Chinese investors-the largest pool of foreign capital-looking for a place to put their cash, the unintended consequence of the fee has been to push demand to cities such as Seattle and Toronto.
"The tax was the trigger of this new wave of investment now coming to Seattle," Shang said. "Why pay more for the same thing?"
Vancouver, which has seen detached-home prices double in a decade, joined areas including Australia and China's Hong Kong in taking steps to slow housing demand after an unprecedented surge of foreign investment. Chinese buyers, in particular, are accelerating purchases overseas, spurred by a weakening yuan and rising prices at home. They're also venturing farther afield as costs soar in some of their favored markets.
Home-purchase inquiries from the Chinese mainland have jumped in Seattle and Toronto since the Vancouver tax was announced, according to Juwai.com, the country's largest overseas property website.
For Vancouver investors, Seattle is a lure because it's a waterfront city just a few hours away by car. It's also more affordable than other West Coast destinations. Toronto, as one of the world's financial capitals, already has an established base of foreign investment in condominiums and a large Asian population.
"Chinese money isn't going to sit and wait," said David Ley, a Vancouver-based professor at the University of British Columbia's Department of Geography, who focuses on housing. "Investors are going to find another city," and Toronto and Seattle are the top two contenders, he said.
While there are no figures specifically showing purchases made by offshore buyers, brokers say demand in Seattle and Toronto has been robust, particularly for the high-end properties Chinese investors tend to favor.
In Seattle, about 12 percent of all homes this year sold for at least $1 million, double the share over the Past decade, according to brokerage Windermere Real Estate. Single-family home prices in King County, where the city is located, jumped by almost 15 percent in October from a year earlier, data from the local realtors association show.
The average price of a Toronto home rose by 23 percent in November from a year earlier, while sales soared by almost 17 percent, the local real estate board reported on Dec 2. In Vancouver, meanwhile, sales have plunged since July and were down by 37 percent last month compared with the year before.
About half of the homes sold in Seattle's suburbs are going to Chinese buyers, with many of the transactions requiring the use of interpreters, international banks and multiple escrow deposits, according to Dean Jones, chief executive officer of Realogics Sotheby's International Realty. This is up from about 30 percent last year, he said.
"This is Vancouver 2.0," said Jones, who lived in the Canadian city about two decades ago, when the capital flow from Asia started to accelerate. "A lot of the same motivations and goals are being replicated in Seattle."
The Seattle metropolitan area has seen a 50 percent jump in house prices in the past five years, thanks in part to a booming technology industry and growth in companies such as Amazon.com Inc and Microsoft Corp. Still, the median home value is $409,900, less than in San Francisco and Los Angeles, according to Zillow Group Inc. In Vancouver, the benchmark home price is C$919,300 ($680,000), or C$1.06 million with the tax.
"Most of my Chinese investors, 60 to 70 percent, compare Vancouver and Seattle," said Carrie Brown, a broker at Ewing & Clark Inc at Seattle.
Bloomberg