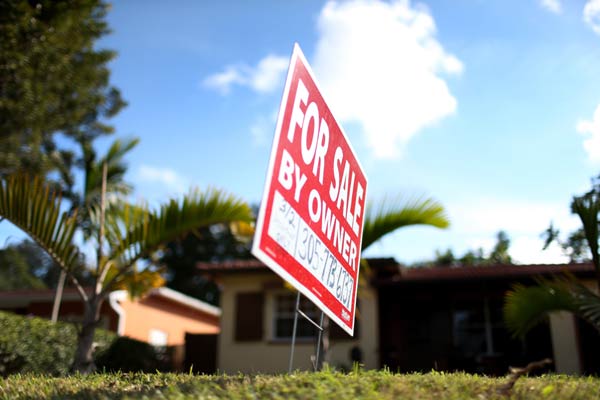 A for-sale sign in front of a house in Miami, Florida. An increasing number of Chinese are buying properties in Miami, attracted by its clean beaches and tropical climate. [Photo/Agencies]
Surging home prices in first-tier cities show little sign of damping rich Chinese's appetite for overseas property.
Accelerated inflation of property prices in top-tier cities in the first quarter, along with eased expectation of renminbi depreciation, in theory could dampen Chinese enthusiasm in overseas properties, giving property value in advanced economies a much slower rise.
According to National Bureau of Statistics, new home prices in Shanghai surged 30.5 percent in March year on year, and prices in Shenzhen jumped 62.5 percent in the same period.
However, recent visits to overseas developers and agents' expos in top cities show little sign of waning interest toward overseas property.
Beverly Hills celebrity real estate agent Aaron Kirman, said he had seen a 45 percent increase in inquiries from Chinese buyers for his highest-priced properties in the fourth quarter of last year compared to the same period of 2014. The inquiries were so overwhelming that his company decided to hold an event in Beijing to directly engage buyers.
Juwai.com, an international property listings service website, said visits to its sites looking for properties in US, Australia and UK is surging. Enquiries for Seattle's real estate more than doubled in 2015 and for Los Angeles county rose 78 percent. In top destination cities such as Melbourne, Sydney, Los Angeles, London and San Francisco, mainland-based inquirers make up a majority share.
Hong Shihong, a partner at US-headquartered law firm Dorsey & Whitney LLP, whose clients are high net-worth individual Chinese with a disposable asset of at least $1 million, said this group's interest for US property is predominantly driven by desire to diversify their assets and hold more US dollar-denominated assets.
"Home price surge in Chinese cities actually compelled them to consider more about US properties because that made them feel more insecure," Hong said. "From appreciation perspective US properties can't compete with Chinese ones, but they endow a rare sense of security."
He said in 2011-12, when he introduced Chinese wealthy to US properties, they showed great interest but no hurry to buy. The situation changed dramatically in the past two years, as they started buying US properties with a sense of urgency.
Rising insecurities at home and expectation of renminbi depreciation drove up their urgency, according to Hong, who sees no waning interest in the next few years regardless of prices in China.