Helping moms teach values to kids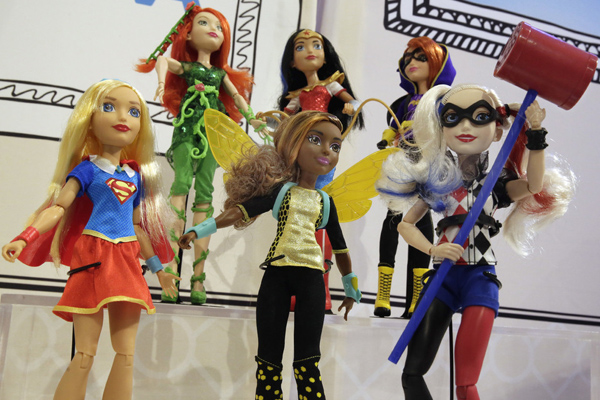 Mattel DC Super Hero Girls are on display at the annual TTPM Holiday Showcase in New York, on Oct 6, 2016. [Photo/IC]
Being a mom means you become a good listener and gain insights into what kids like and don't. Those traits could be a big help if you also happen to be working in a related field, as Hailey Wu Sullivan, senior director and head of marketing for Mattel Asia-Pacific, would testify.
She is a mother of a five-year-old boy. Raising her son has taught her how to better listen to Chinese customers of one of the world's biggest toy producers.
"Being a mom makes me a good marketer. Being a mom helps me understand all the choices and all the stresses we go through. I can now also better relate to moms. When you see your kid opening up a toy box, and he/she goes 'Whoa mama!'-that's the best moment," said Sullivan in an address to a gathering of invited children and parents at the Great Wall in northern Beijing recently.
The Yale graduate leads all brand marketing strategies and activities for Mattel's entire portfolio of more than 40 brands in 14 markets in the Asia-Pacific region, where China is the key segment.
Against the stunning background of the Great Wall, British iconic toy train characters Thomas & Friends make an impression at the event. But what stands out is the first Chinese "friend" of the Thomas-Yongbao. Sullivan takes pride in introducing the character as a result of frequent communications with Chinese moms.
She said in addition to regular research, Mattel has been talking to moms in China through Tencent's WeChat, the most widely used instant messaging app in the country.
"We have a public account, and we are marketing these events. That is the most direct way that we are talking to moms, and she is giving feedback to the entire mom community, so she is amplifying the message for us," said Sullivan, who spent a few years at McKinsey & Co prior to joining Mattel.
In China, young mothers have a lot of choices for their kids, in terms of different brands of toys and playthings, she said.
"When we look at our brands, the first question we want to ask is-does every brand have a distinct purpose? Does it also deliver on play and learning development? A big change that we adapted to is how digital moms are becoming," said Sullivan.
Much of Mattel's business these days is based on insights gained from online interactions with moms. Mattel's content is now available on different platforms. Tips, videos and partnerships with digital labels such as JD.com abound, said Sullivan.
Evidently, she has drawn heavily from her previous work experience. Prior to joining Mattel's APAC Leadership Team, Hailey led marketing for the Fisher-Price Baby portfolio in the United States and successfully turned around the business in two years.
Under her direction and leadership, Fisher-Price launched a breakthrough digital mom campaign that leveraged consumer insights and captured new digital shopping trends.
"The US is a very different market, but the fundamental lesson remains the same and can be applied in any other market-and that is, learn from consumers," she said.
US consumers are very similar to their counterparts elsewhere in terms of how much they shop and research online, said Sullivan. "So what we did is to change the communication strategy to more digital-we didn't have so many digital communications back then. And the second thing was to partner with strategic e-commerce partners in the US."
China has been one of the fastest-growing markets globally for Mattel. "This continuously encourages us, and that's also why we keep investing in China and making brands more relevant to Chinese moms," said Sullivan.
The company has a 2 percent market share in China, according Euromonitor International data. Traditional Chinese toys and games generated 64.2 billion yuan ($9.6 billion) in sales last year.
The fierce competition in the toy market in China is a challenge for foreign players such as Mattel. "How do we stand out? To stand out, our brand has to be relevant."
Mattel became relevant by exploiting an insight gathered from online communications with Chinese moms. The latter want to know how to teach their children social values.
"Thomas & Friends teaches teamwork, friendship, honesty-all these are great things, and we want to make sure these come through in China.
"Thomas & Friends is definitely the most important franchise in the whole portfolio. It has got holistic brand spirit," she said, adding it is one of Mattel's biggest brands, and the most beloved toy brand in China among 2- to 4-year-olds. The company is opening a Thomas & Friends Town in Chongqing soon. More such facilities will follow in the years to come.
Sullivan said it is crucial to localize some aspects of the brand. The introduction of the character Yongbao serves as an example of how Mattel wants to make sure that when kids interact with Thomas & Friends, they can identify with a character they know, she said.
"We did research and started hearing that moms need additional tools to help teach their kids life lessons, and having a Chinese character will help the brand to further engage the audience," she said.
Yongbao exudes Chinese values such as bravery and willingness to assume responsibility, she said.