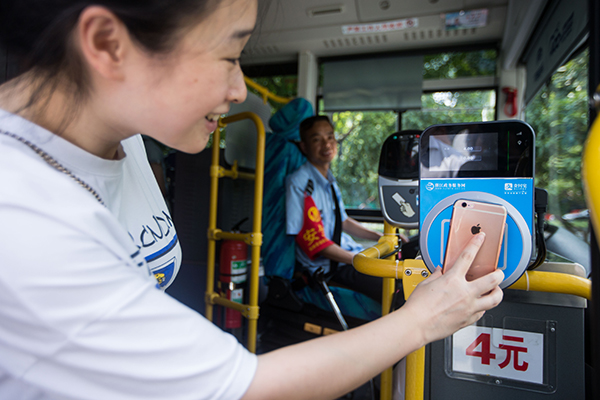 A bus passenger buys a ticket with Alipay, which is targeting more than 120 million Chinese travelers worldwide. [Photo/China Daily]
Alipay, an affiliate of billionaire entrepreneur Jack Ma's Alibaba Group Holding Ltd, is pushing forward with plans to expand in Europe, unveiling a partnership with Ingenico Group SA that paves the way for hundreds of continental retailers to accept China's biggest mobile wallet in popular destinations.
To cater to Chinese tourists visiting Europe, Alipay needs brick-and-mortar stores from LVMH to Sainsbury's on board.
An agreement with Ingenico, the processing platform that has thousands of merchants as its customers, will facilitate alliances as well as provide a technical piece of the puzzle, Douglas Feagin, who heads Alipay's international business, said in an interview.
The Chinese company is seeking partners from duty-free shops to luxury and department stores, he said.
"Chinese customers traveling abroad-one of their primary goals is to buy things. It's a very large market for us given most travelers are Alipay customers already," Feagin said in Paris. "This deal gives us immediate access to merchants across Europe, more quickly and more efficiently."
Alipay is targeting the 120 million Chinese people who traveled last year and spent $875 each on average during those trips.
It promises to drive business to retailers, with a wallet app that lets some 450 million users pay, but also suggests stores, restaurants and pushes coupons. In comparison, only a few dozen million subscribers combined use mobile wallets by Apple Inc, Google or Samsung Electronics Co.
Agreements are already in place to let Chinese customers use the Alipay wallet for a ride with Uber Technologies Inc, a booking on Airbnb Inc or a purchase at Macy's Inc. Alipay has no plans at this point to offer its services to consumers who are not from China.
"We're building the international business step by step. There's a lot to do still with our core customer base, and it's still expanding," Feagin said. Alipay has a market share of about 80 percent in mobile payments in China.
Ingenico, whose payment terminals are in thousands of online and physical stores in 150 countries, also manages cross-border electronic transactions for Alipay and its parent company Alibaba.
Offering its retail customers more payment options is a way to keep them happy as well as grow service charges by increasing volume, said Jacques Behr, Ingenico's chief for Europe and Africa.
"The alternative is often paying in cash," Behr said. That, of course, would be a transaction lost on both Alipay and Ingenico.
Bloomberg