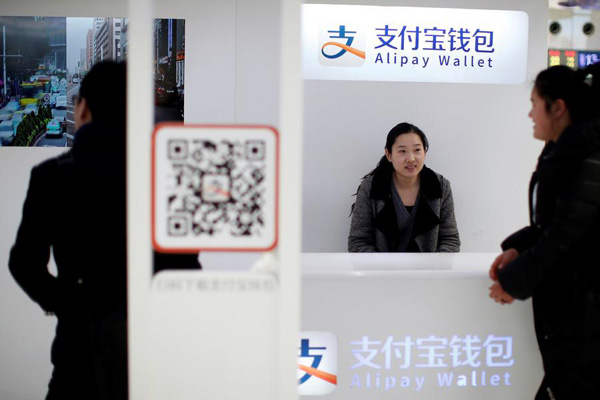 A sales assistant sits behind and under Alipay logos at a train station in Shanghai, February 9, 2015.  [Photo/Agencies]
InterContinental Hotels Group, the UK-based global hotelier which includes the InterContinental and Holiday Inn brands, announced on Wednesday that it will give Chinese guests the ability to pay via Alipay through all of its online and mobile channels across its full range of hotels globally, becoming the first worldwide hotel group to do so.
The first phase will see Alipay being accepted across IHG's existing estate of more than 270 hotels in China and selected international hotels. The global rollout of Alipay will begin in 2017, across IHG's more than 5,000 hotels globally.
The announcement is the latest development of Alipay's international expansion to provide Chinese tourists with payment convenience, after the a landmark partnership with French payments processing group Ingenico last week, where the Paris-based payments software and terminals producer will facilitate thousands of European merchants to accept Alipay from Chinese tourists.
Alipay, the mobile payment service run by the New York-listed Chinese e-commerce giant Alibaba Group's financial affiliate Ant Financial Services Group, has expanded rapidly in mainland China, and the company now says it has 450 million active users, representing an estimated 80 percent of the country's mobile payments market.
It started as an online payment platform, used by Alibaba's customers and sellers, but in more recent years extended to become a popular mobile payment system enabling Chinese customers to pay for retail purchases.
"With IHG's extensive global footprint, this strategic collaboration will help Alipay reach out to more customers, especially Chinese customers as they travel around the world," said Sabrina Peng, Vice President of Ant Financial.
"As China's leading online and mobile payment solution provider, Alipay aims to deliver convenient and flexible services to customers. We would like to provide 'a taste of home' for our users when they travel abroad," Peng said.
Keith Barr, Chief Commercial Officer, IHG said, "IHG has always been a leader in providing advanced payment solutions to guests through our direct booking channels. We are thrilled to be partnering with Alipay to strengthen our ever-evolving travel experience for our guests globally."
According to IHG, members of nearly 90 million Chinese households will be able to travel overseas by 2023, fuelled by a growing middle class and increasing propensity to travel.
Cui Zhijian, an associate professor of operations management at IE Business School in Spain, said at the moment it makes sense for Alipay to target Chinese tourists who travel abroad, because the amount of shopping done by outbound tourists is large.
"However it is difficult for them to market their payment platforms to European locals. The other difficulty is that because UnionPay is already doing so well in Europe, most Chinese outbound tourists will just use UnionPay to purchase products when they go abroad, therefore Alipay's European expansion is in direct competition with UnionPay," said Cui.
China UnionPay is an alliance of Chinese bank cards, allowing Chinese tourists to pay overseas without having international credit cards, and is commonly installed in Western luxury hotels and retailers, such as London's Harrods and The Ritz.
The Alipay IHG partnership is a part of Alipay's wider international push. Earlier this year it collaborated with Uber, allowing people with Alipay to use it to pay for rides using Uber's car-hailing app. It has also forged alliances with the likes of German banking software company Wirecard to offer mobile-payment services to Chinese tourists in Germany.
Ingenico's alliance with Alipay allows European internet retailers to accept payments through Alipay's e-wallet. In addition, it will allow Alipay to accept payments from European customers with MasterCard, Visa and other cards who buy goods through various online marketplaces it runs, such as AliExpress.
To contact the reporter: cecily.liu@mail.chinadailyuk.com