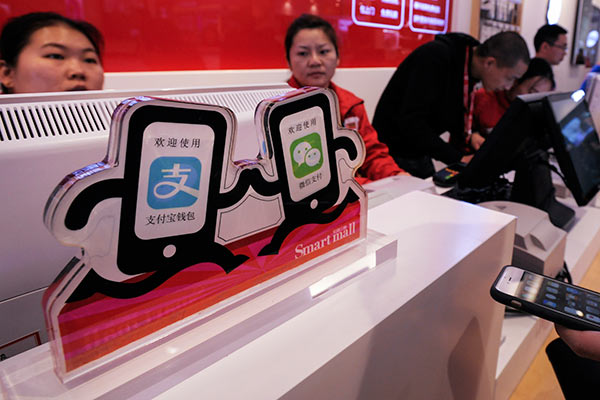 A sign at a store in Nanjing, Jiangsu province, tells consumers they may use Alipay or Tenpay to pay. An Xin / For China Daily
Mobile payment licenses from Hong Kong's financial authorities to two mainland payment operators are seen as a key step in their overseas strategic expansion and are expected to boost their business in the city, analysts said on Friday.
Tencent Holdings Ltd and Alibaba Group Holding Ltd's financial affiliate Ant Financial were granted licenses from the Hong Kong Monetary Authority on Thursday to operate their mobile payments there, the first license the two tech giants have obtained overseas.
It means the two companies can not only continue to serve retail stores in Hong Kong, but also provide digital wallets and merchant discounts for their Hong Kong customers.
Peng Yijie, vice-president of Ant Financial's international business, said its license was a boost for Alipay as it has long been seeking to offer convenient non-cash payment services to Hong Kong residents.
Alipay entered Hong Kong in 2007. It is estimated that by July about 6,000 bricks-and-mortar stores in Hong Kong have offered Alipay's payment service.
Tencent said it has made efforts to expand its mobile payment solution Tenpay in Hong Kong after winning the license, adding that Hong Kong is a key area for its overseas expansion.
The HKMA on Thursday issued the first five stored value facilities (SVF) licenses to Alipay, Tenpay, HKT Payment, TNG and Octopus.
HKMA Chief Executive Norman Chan said the licences were a landmark event. "The grant of the first batch of licences for SVF issuers is turning a new page in the retail payment development in Hong Kong."
Hong Kong residents often use Octopus, an electronic payment system using a contactless smart card as well as credit cards as their main payment methods.
One analyst said the mobile payment industry in Hong Kong was relatively backward. Although mainland payment tools Alipay and Tenpay have appeared in Hong Kong in the past years, they mainly served mainland tourists when they go shopping in Hong Kong, he said.
Li Chao, an analyst at research firm iResearch Consulting Group, told China Daily that the two tech giants see Hong Kong as an important base for their global expansion.
"However, we still need time to see whether Hong Kong residents are willing to accept these mobile payment methods due to differences in culture and habits," he said.