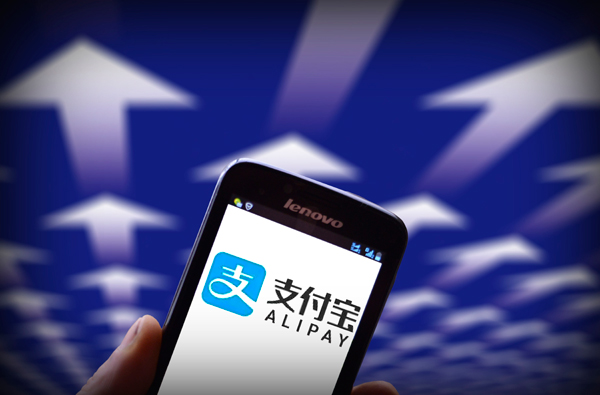 A app of Alipay, China's biggest third-party payments platform, on a mobile phone. [Photo/VCG] 
Jack Ma opens his wallet to Europe, but not to Europeans
Jack Ma will set a bag aside for you at your favorite Paris store or hail you a ride in Rome-just as long as you're not European.
China's biggest third-party payments platform Alipay, an affiliate of Ma's Alibaba Group Holding Ltd, is signing deals with brick and mortar retailers in Europe to bulk up its offering for Chinese tourists and expats.
It's seeking to add extras to its mobile wallet app for Chinese travelers in France, the UK, Germany and Italy, though it has no plans to offer its services to consumers who aren't from China.
"Europe is a popular destination for our Chinese customers, so it's an important market for us," Rita Liu, head of Alipay Europe, Middle-East and Africa, said in an interview. "We're actively looking for partners across Europe-merchants who want to cater to Chinese tourists or technical providers on the payments side. But we have no plans to target European customers."
Alipay held talks with retailers in the French capital including Printemps, one of the city's biggest department stores; it unveiled a deal last week to sell travel insurance from Axa SA to its users; and it's working with Germany's Wirecard AG to support the mobile wallet service in as many as 69 stores at Munich Airport. Alipay is in talks with other technical, retail and payment partners in France and Germany, as well as the UK and Italy, Liu said.
The cross-border strategy mimics one Alipay-with 450 million users-has deployed with US partners. It has cut deals with the likes of Uber Technologies Inc, Airbnb Inc and Macy's Inc to let Chinese customers pay with the Alipay wallet, either by tapping their phone on a contactless register or having a cashier scan a bar code on the mobile screen to charge a registered account.
It highlights how in payments, as with other tech sectors, Europe and the US need Chinese customers more than the other way around, echoing Uber's humbling lesson from selling its Chinese operations to local rival Didi Chuxing.
Bloomberg