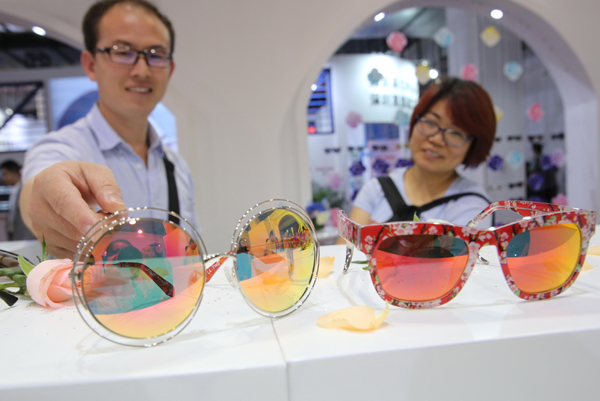 Vistors look at glasses on display at an expo in Beijing, Sept 9, 2015. [Photo provided to China Daily]
The national "Internet Plus" strategy is ushering in a new era in China's eyewear market.
The eyewear supply chain, in particular, is developing online-to-offline or O2O channels to better manage huge and constantly growing consumer-related data.
From optician's checks, sight examination results and analysis, processing of lenses to final delivery, a lot of information emerges that needs to be properly documented and stored to be shared, retrieved, reviewed or modified later.
Enter cloud computing. That is the magic solution for all such needs, according to Shanghai-based wangcl.com, a platform that enables users to book optician's checks online, store sight information, and track processing and delivery information.
The entire process is transparent and trackable. If a customer needs more than one pair of glasses for various purposes like biking and running, his or her sight information, preference and detailed demands need to be submitted only once.
This would save a lot of time and enhances efficiency, according to Peng Yongze, founder and CEO of wangcl.com.
Users' demands for eyewear tend to be diverse as they may enjoy different sports, have a distinct lifestyle and varying reading preferences. So, niche segments within the eyewear market, seeking to fulfil such specific needs, are foreseeable in the long run.
According to a research note by Euromonitor International, many such segments already exist, catering to demands for specific glasses for basketball players, swimmers, cyclists, marathon runners, cricketers, long-distance coach drivers and graphic designers.
New technologies like augmented reality or AR helps consumers to try on glasses virtually first. This benefits sunglass retailers as consumers make informed decisions after checking how they look in such sunglasses or frames, thus minimizing exchanges and refunds.
Gilt.com, an online outlet for luxury and lifestyle products, already offers AR apps, which consumers use to take selfies that show them as if they are wearing their chosen glasses and frames.
"This way, I can choose the ones that match my face shape in the context of the occasion, be it smart casual or formal business," said Sun Yanhong, 29, an administration manager in Shanghai.