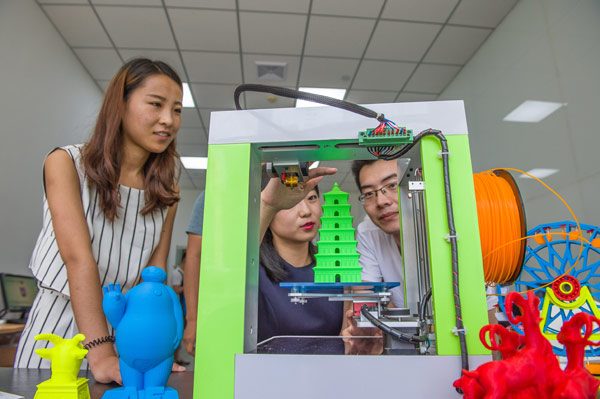 Employees look at a 3D printing model in their office an innovation park in Xi'an, Shaanxi province, July 28, 2016. [Photo/VCG]
MIIT and Bank of China formulate plan to assist the international growth of Chinese companies
The Ministry of Industry and Information Technology and Bank of China Co Ltd on Wednesday, released a five-year plan to support the international development of small and medium-sized enterprises, including helping them with overseas mergers and acquisitions and to form joint ventures.
The plan will encourage local governments to set up special funds or to work with Bank of China to create special funds. These funds will aim to attract venture capital investment from abroad and funds for international mergers and acquisitions.
The capital will support SMEs' overseas business activities, including M&As, joint ventures, and buying shares in overseas companies.
The aim is to introduce the advanced foreign technologies and the latest high-tech achievements into China, as well as actively support foreign and Chinese SMEs' technology innovation and development in China.
An official from the department of SMEs in the ministry said the national development strategies, such as the Belt and Road Initiative and the Asian Infrastructure Investment Bank, provide new opportunities for SMEs in China, and many countries were showing increasing interest in working with Chinese SMEs.
"But we also see SMEs facing many challenges in their international growth, such as difficulties in getting information and in capital raising and the high cost of financing, which have restricted SMEs' internationalization," he added.
Based on a report from the Center for China and Globalization, Chinese companies' overseas investments ranging from $100 million to $1 billion contributed 63 percent of total outbound investments from 2002 to the first half of 2015.
Private enterprises experienced exponential growth in foreign investment in 2014 to 2015 with 256 cases per year, seven times the figure in the period 2008 to 2013, the CCG report said.
It added that active investments from Chinese SMEs and startup companies led the increase of China's outbound investments.