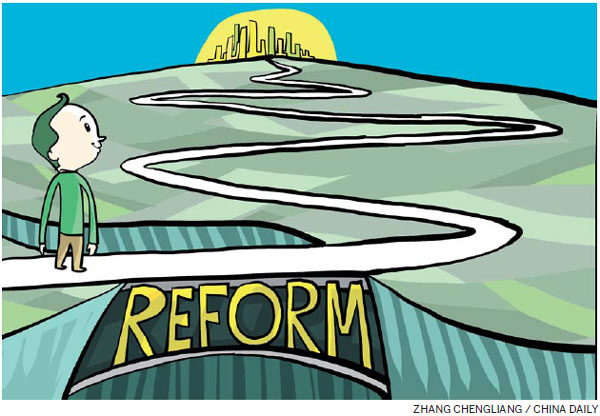 President Xi Jinping asked for unswerving efforts to deepen the reform of State-owned enterprises (SOE), in instructions given to a symposium on SOE reform on Monday, the 21st Century Business Herald reported on Tuesday.
SOEs are an important force for national development and guarding people's interests, said Xi, calling for efforts to enhance SOE's vitality, competitiveness and resistance to risk.
Xi urged to step up the establishment of a modern corporate governance system and advance industrial structure adjustment and innovation-driven development, letting SOEs play a leading role in the country's supply-side structural reform.
He also emphasized the importance of strengthening the leadership of the Communist Party of China (CPC) over SOEs and preventing the loss of state assets.
Premier Li Keqiang also gave instructions that SOEs should enhance their competitiveness and efficiency through market-oriented reforms and reduce excess and backward production capacity to advance supply-side structural reform.
To improve competitiveness, they should come up with innovative technology, products and services while upgrading their traditional industries, he said.
Earlier, Xiao Yaqing, head of State-owned Assets Supervision and Administration Commission (SASAC), said China had rolled out 13 proposals or plans on SOE reform, and there were nine more documents underway.
He said that the SASAC would focus on supervision of SOEs' capital and step up diversified equity reform while developing a batch of multinationals with strong competitiveness.
As of the end of 2015, China's SOEs had total assets of 119.2 trillion yuan ($17.87 trillion), and owner's equity of 40.1 trillion yuan, which were respectively 1.5 times and 1.4 times the amount in 2012.
Assets and owners' equity of centrally-administered SOEs amounted to 47.6 trillion yuan, and 15.9 trillion yuan respectively, which were both 1.3 times the amount in 2012.