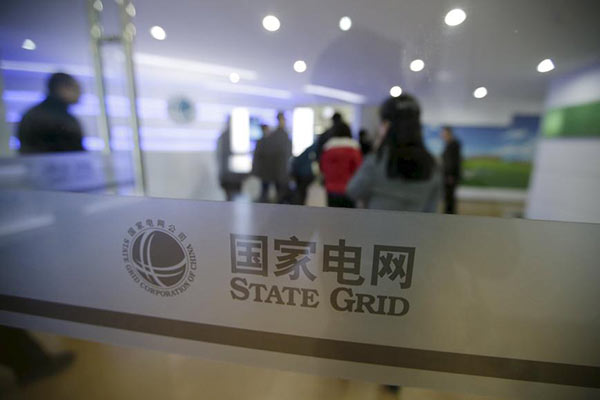 Staff members walk into a wind and solar energy storage and transmission power station of State Grid Corporation of China, in Zhangjiakou of Hebei province, March 18, 2016.[Photo/Agencies]
State Grid International Development Ltd, a wholly-owned subsidiary of State Grid Corp of China, plans to buy a 23 percent stake in Brazil's largest power distributor, CPFL Energia SA from Brazilian builder Camargo Correa SA for 5.85 billion reais ($1.8 billion).
State Grid will pay 25 reais for each of Camargo's 234 million CPFL shares, Bloomberg reports.
Other shareholders have the option to outbid State Grid or sell their stakes to the Chinese company on equal terms, which could increase the final size of the deal.
The deal is subject to approval by Brazilian antitrust regulators, the news agency added.
State Grid is expanding its business globally with acquisitions across the world. Currently, it has invested in Italy, the Philippines, Brazil, Portugal and Australia.
The company has said that it plans to expand in Brazil beyond the power transmission assets it already manages. CPFL has a large portfolio of power generation installations besides its power distribution network covering four Brazilian states.
State Grid runs nearly 7,000 kilometers of transmission line in the country, according to Brazil's local media. In addition, another 6,600 kilometers are under construction.
State Grid, which distributes electricity to 1.1 billion people, had a profit of 86.5 billion yuan ($13.1 billion) on revenue of 2.08 trillion yuan in 2015, its website shows.
Agencies contributed to this story.