SOE reform momentum to set tone for A-share market
Updated: 2016-05-30
( China Daily )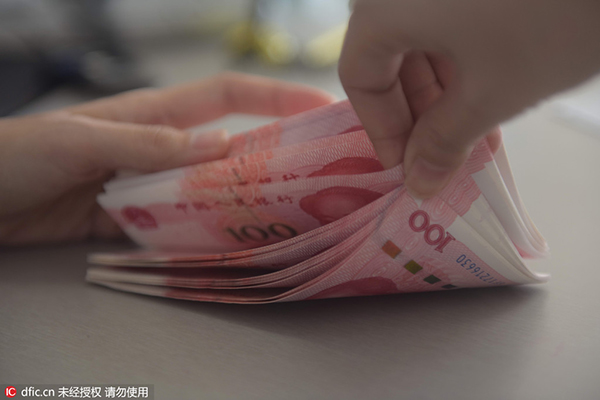 A clerk counts money for a client at an Agricultural Bank of China branch in Hainan province. [Photo/IC]
Analysts recommend cash-rich firms, oil SOEs and consumer-related stocks
When investors place their bets in the A-share market this week, one of the key factors they would weigh is the progress of the reform and restructuring of the country's loss-making State-owned enterprises, analysts said.
Investors have been taking note of the stronger willingness recently expressed by the top leadership in Beijing to reform the SOEs, a top priority of the country's supply-side reform, as President Xi Jinping and Premier Li Keqiang repeatedly stressed the significance of such reform over the past two weeks.
"Domestic reform is progressing more quickly, since the government seems to be exhibiting a stronger willingness to let go of loss-making SOEs," said Yao Wei, chief China economist at French bank Societe Generale in a recent research note.
"The more affirmative attitude towards capacity reduction is a sign of such reform, while the recent defaults of bonds issued by SOEs are the consequence of positive reform-whether it was intended or not," Yao said.
Investors have shown increasing skepticism toward the Chinese stock market which lacked stimulus for a sustainable rebound as the average daily trading volume in the past week was extremely light at less than 400 billion yuan ($61 billion).
Frank Benzimra, equity strategist at Societe Generale, said that SOE restructuring could serve as a trigger for a re-rating of the Chinese equity market.
"Restructuring means removing financially-stressed companies, leading to higher profitability for the remaining firms and a higher valuation," he said.
But he warned an immediate re-rating of the equity market appears unlikely given the large-scale non-performing assets of banks, the lack of a clear plan to tackle them, and the moderate success in restructuring SOEs in the past.
Benzimra noted this is not yet the right time to buy banking stocks as banks are expected to bear some cost of the restructuring SOEs which take up nearly half of the bank lending and more than 80 percent of corporate bond financing.
Investors should stay away from the financially stressed companies while they can take a long position on cash-rich firms, oil SOEs and consumer-related sectors, he said.
Zhang Xiaochun, a strategist with Guolian Securities Co, said there is high chance for the A shares to be included in the MSCI Emerging Markets Index in June. This could help boost investor sentiment and offer an upside potential for the market.
"The benchmark Shanghai index has consolidated around 2,800 points, meaning that there has not been too much of selling pressure," Zhang said.
"But investors shouldn't be overly optimistic as the likelihood of the US interest rate hike in June could hold back the A-share market."