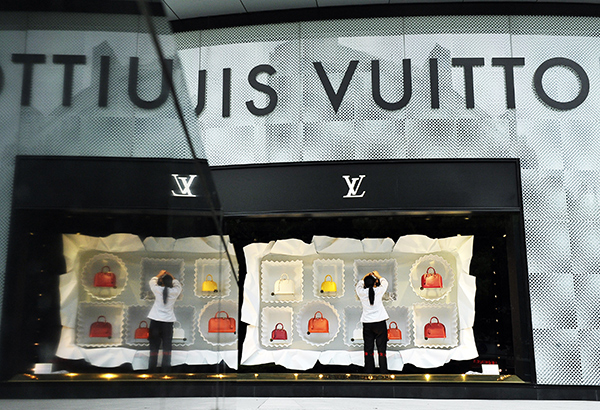 A janitor cleans the window outside of a Louis Vuitton flagship store in Fuzhou, Fujian province. [Zheng Shuai/For China Daily]
Cross-border e-commerce consumers in China should no longer worry that product prices may rise due to new regulations on taxes, leading industry players have reassured.
Prior to the new regulations that took effect on April 8, personal orders were treated as postal articles and subjected to a relatively lower postal tax.
Since April 8, however, such orders have been classified as imported goods and faced relevant tariffs, a value-added tax and consumption tax.
A single cross-border e-commerce order could now be worth up to 2,000 yuan ($300). A consumer is allowed to import goods worth 20,000 yuan a year via cross-border e-commerce channels.
Orders exceeding the limits attract full tax rates applicable to general trade. Make-up products and perfumes are subject to an additional 30 per cent consumption tax.
Wang Zhixiang, vice-president of Zhenpin.com, an e-commerce player dealing in luxury goods, said the new regulations would have the most impact on those that sold low-priced standard products, watches, bags and the like. Those selling higher-priced clothes and shoes may not be affected as much.
E-commerce majors will absorb the new taxes without passing them on to consumers. This means prices won't rise, Wang said.
For instance, Tmall International, Alibaba's cross-border e-commerce platform, has said it has no plans to raise product prices. The average 10 per cent rise in tax is acceptable for overseas brands that are sold on it, Tmall says.
Like Tmall, discount e-retailer Vip.com said it would absorb the new taxes and pay for the delivery fees as well. It is popular among consumers for its special prices for luxury brands such as Burberry, Versace and Fendi.
Feng Jialu, vice-president of Vip.com, attributed the decision to long-established direct dealings with overseas brands. Also, its agents buy products in nine countries, which helps eliminate intermediaries and saves on costs.
Jack Chuang, partner at OC&C Consultants Greater China, a global market consultancy, said "Overseas brands in both luxury and normal segments show a huge difference in prices in China and other markets. But to attract Chinese consumers, some e-commerce players are willing to absorb some of the tax rises, so that the price difference doesn't get too big."
Suning.com uses a combination of general trade and cross-border e-commerce to provide products at reasonable prices to consumers.
Cross-border e-commerce platforms in China have grown rapidly in recent years, in terms of sales of luxury products. Through them, as well as overseas websites, Chinese consumers bought luxury products worth 48 billion yuan ($7.39 billion) in 2015.
That accounted for 12 per cent of the total luxury consumption in 2015, according to market consultancy Bain & Co.
In a survey jointly conducted by digital payments company PayPal and market consultancy Harris Poll, 53 per cent of the 1,313 interviewed consumers said they mainly shopped for clothes, shoes and accessories on cross-border e-commerce sites. The average amount spent by a consumer was $485. Some 41 per cent of the interviewees spent $512 on each order. Make-up and skincare products are popular.
According to the Ministry of Commerce, there are more than 5,000 cross-border e-commerce platforms in China. The total import and export volume of these platforms is expected to reach 6.5 trillion yuan this year.
Chuang of OC&C Consultants thinks the new policy will likely eliminate some of the smaller players, as they would not be able to absorb the rise in taxes.
Nearly 46 per cent of the 1,447 consumers surveyed by Bain & Co said they had used cross-border e-commerce platforms to shop for luxury goods last year.
That is another reason why the rise in tax has been less of a concern for e-commerce players. Price has become less important to a growing number of Chinese consumers, especially those who buy luxury products.
According to a recent survey on online luxury spending, released by KPMG, one-third of the 10,150 respondents had made luxury online purchases at full, non-discounted prices last year. Consumers said they valued the origin of luxury products, a product's unique features and its overall quality.
"China's middle class has risen with the country's economic development. They opt for cross-border e-commerce platforms for better quality and more trustworthy products," said Matthew Lee, vice-president and general manager of PayPal North Asia.
In order to not disrupt the booming cross-border e-commerce industry, the central government has come up with a number of policies, regulations and measures. The establishment of 10 cross-border e-commerce comprehensive pilot areas in Hangzhou, Qingdao, Shanghai and other places is one such measure.
This appears to be encouraging existing majors to consider expansion. Feng of Vip.com said, "the new regulation is good news to large e-commerce platforms. We have the bargaining power. The administrative body has released a full list of goods that can be legitimately imported by e-commerce platforms. So, we are planning to introduce more brands in the near future."
Thibault Villet, chief executive of Mei.com, a platform specializing in flash sales of luxury goods, revealed similar plans. He said Mei.com, with help from Alibaba, planned to introduce more luxury brands in the Chinese market in the next few months. Alibaba invested $100 million in Mei.com last July.