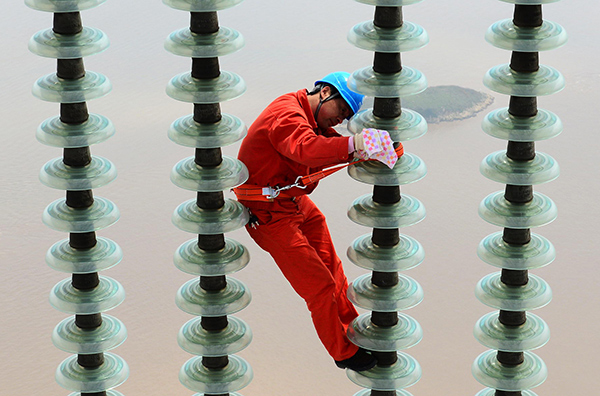 A worker from State Grid repairs power transmission facilities in Zhoushan, Zhejiang province. [Yao Feng/For China Daily]
State Grid Corp of China's ultra-high-voltage technologies have become key to the expansion of the company's presence in Brazil, according to an energy expert.
"UHV, which transmits a large capacity of electricity over long distances with low losses, is exactly what Brazil needs for its power grid construction due to the nation's territorial characteristics," said Han Xiaoping, an analyst at Beijing-based cnenergy.org.
SGCC plans to purchase the shares in Brazilian electricity transmission company CPFL, which are currently held by Camargo Correa SA, according to an announcement made by CPFL.
Camargo Correa SA, one of the largest private companies in Brazil encompassing cement, energy, transportation and infrastructure construction, holds a 23.6 percent stake in CPFL, with a market value of $1.5 billion.
"Brazil is an important base for SGCC's globalization plan," said Han. "UHV is key to the solution of power transmission in Brazil. Its hydropower stations are in the water-rich Amazon region in the north while the centers of consumption are located in the south."
Han said that SGCC's UHV technologies take the lead in the world.
Its ultra-high-voltage direct current technology, which is applied to the Brazilian market, will be able to transmit 4 million kilowatts of electricity in one line.
Brazil's power grid map envisions a new transmission line stretching from the northern state of Para's Belo Monte Dam in the deep Amazon basin to the southern economic centers.
A group led by SGCC won the bid to construct the hydropower transmission lines for Belo Monte, a hydropower plant in the Amazon region, in February 2014.
This is the first UHV transmission project, which SGCC has won overseas.
SGCC business in Brazil started in 2010 when it established a holding company in there. SGCC currently has 6,748 kilometers of power lines in Brazil, and a further 6,054 kilometers under construction in the nation.
Apart from Brazil, SGCC has presence in nations including the Philippines, Portugal, Australia and Italy. Its overseas investment has reached $9.8 billion, while its overseas assets have reached $29.8 billion.