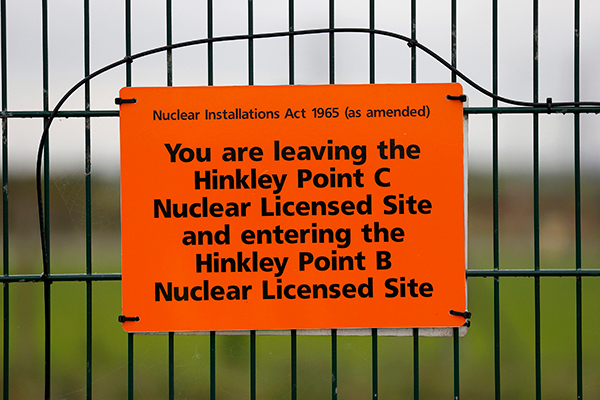 A sign marks the borders of the site where EDF Energy's Hinkley Point C nuclear power station will be constructed in Bridgwater, southwest England October 24, 2013. [Photo/Agencies]
Britain's unexpected Brexit vote has put an additional focus on short-term uncertainties related to a major UK nuclear project being developed by Chinese and European companies.
Company feedback and the views of sector experts on Monday, however, indicated there should be no long-term impact, in remarks that could ease the concerns of investors.
The deal between China General Nuclear Corporation and Electricite de France SA, for the planned construction of the Hinkley Point C project in southwest England, attracted a lot of concern and speculation ahead of the referendum vote on Thursday, since a would-be Brexit was widely seen as imposing additional financial pressure on the already much-delayed program.
In an email reply to China Daily, Paris-based EDF said there would be no impact on the company's strategy in the UK, but it will have to adjust to brand new economic conditions and exchange rates.
Zhou Dadi, deputy director of China Energy Research Society, who is also a senior researcher, said the UK's goal to have more clean energy in its future energy mix would not be changed by the "big decision" of Brexit.
"The UK will go down its clean path in the future despite their vote to leave the EU, because they already made promises to cut emissions during the Paris climate change conference. Therefore I don't think it will have any impact on nuclear power projects," he said.
Victor L L Chu, chairman of First Eastern Investment Group, said the UK's departure from the EU would fan some uncertainties about the flagship power project in the short term due to exchange rate fluctuations. However he said that Chinese companies in any future negotiations in the sector would seek to gain the upper hand and benefit in the long run.
"The French company may want Chinese investors to take a larger share, but I think CGN will take cautious steps before accepting any offer," he said.