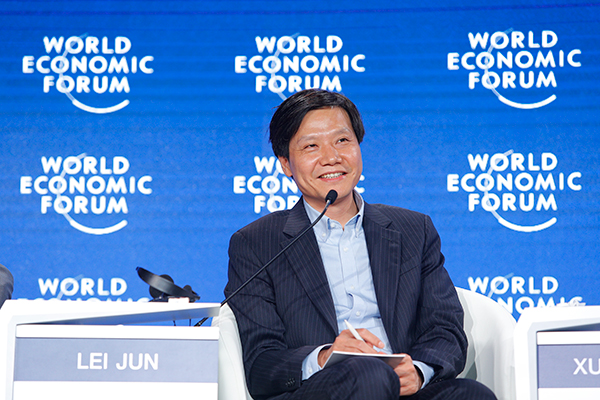 Lei Jun, founder and CEO of Xiaomi Corp. [Photo/VCG]
Smartphone vendor Xiaomi Corp said on Monday it plans to open 1,000 offline experience stores over the next three to four years and continue to expand its product portfolio.
The move toward experience stores comes in the wake of online smartphone sales hitting the ceiling.
Xiaomi has been grappling with declining phone shipments and mounting competition from rivals such as Huawei Technologies Co Ltd.
Lei Jun, founder and CEO of Xiaomi, said the Beijing-based company wants to be the Muji in China's tech sector. Muji is a Japanese retail company that sells a wide variety of household and consumer goods.
"Xiaomi was never meant to be just a smartphone vendor. Instead, we are aiming to offer consumers a wide range of products at affordable prices," Lei said at the Summer Davos in Tianjin.
"We need about 40 kinds of electronic products to attract consumers to our online shopping platform and offline retail stores," he said, adding the company has invested in 55 smart hardware manufacturers in recent years.
Xiaomi has expanded its offerings from smartphones to drones, air purifiers, patch panels to rice cookers.
"When I founded Xiaomi in 2010, I knew clearly that it would take 15 years for Xiaomi to go public, because the company's business model is too complicated and consumers need time to cultivate belief in our products," Lei said.
Di Jin, research manager at IDC China, said Muji's business model works quite well for fast-moving consumer products such as shampoo. But for electronic products, the key to success still lies in hefty investments in research and development.