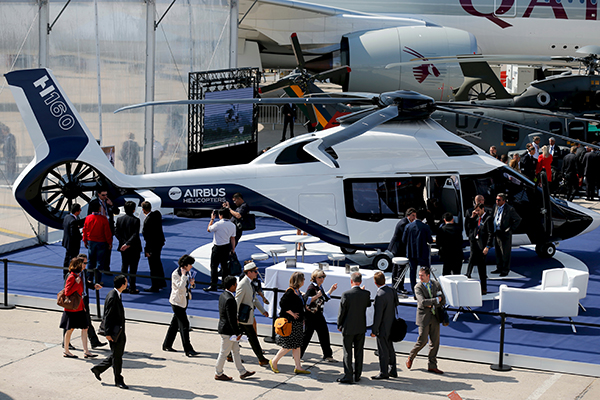 Visitors take a look at a H160 Airbus Helicopter during the 51st Paris Air Show at Le Bourget airport near Paris. [Photo/Agencies]
China Minsheng Investment Group, the country's largest private investment conglomerate, is investing aggressively in China's burgeoning general aviation sector.
"General aviation is the only sector in China that has not yet totally opened, with about one trillion yuan ($151 billion) market value", said Wang Rong, president of CM International Financial Leasing Co Ltd (CMIFL), the financial leasing arm of China Minsheng.
Wang said that general aviation is one of CMIFL's four key business sections, and the helicopter market is the highlight of the section.
On June 17, CMIFL received the first helicopter from its agreement to buy 100 helicopters signed last year with Airbus Helicopters. The agreement for 100 Ecureuil-series helicopters over five years provides a framework for CMIFL to become the first and largest helicopter leasing company in China.
Dong Wenbiao, board chairman of China Minsheng, said at the delivery ceremony at Airbus Helicopters in France that the group has made a five-year plan targeting China's emergency medical rescue aviation market. He said the group plans to purchase 100 helicopters, invest in 100 general aviation airports, and reconstruct 100 hospitals to meet the needs of the growing emergency medical rescue market.
"The goal is ambitious, but I think China Minsheng can achieve it", said Li Xiaojin, head of the Institute of Air Transport Economics under the Civil Aviation University of China in Tianjin.
Li said the market demand is there. China currently has just about 200 airports for civil use, many fewer than the 500 in the United States, but the size of the two countries is similar, he said.
Li said the five year schedule seems too short because of difficulties in building ground support facilities and the shortage of pilots.
The slowness in opening up low-altitude airspace, finding qualified industry talent, and building infrastructure are big problems that China's general aviation industry is facing, Li added.
Founded in 2014, China Minsheng is an international private investment group with 50 billion yuan ($7.56 billion) in registered capital. It was started by the All-China Federation of Industry and Commerce and launched by 60 prestigious private companies. It has been called a private version of China Investment Corp, which manages the country's $200 billion sovereign wealth fund.
CMIFL is a joint venture launched last year between China Minsheng and Hana Bank of South Korea, with registered capital of 4.5 billion yuan ($680 million).