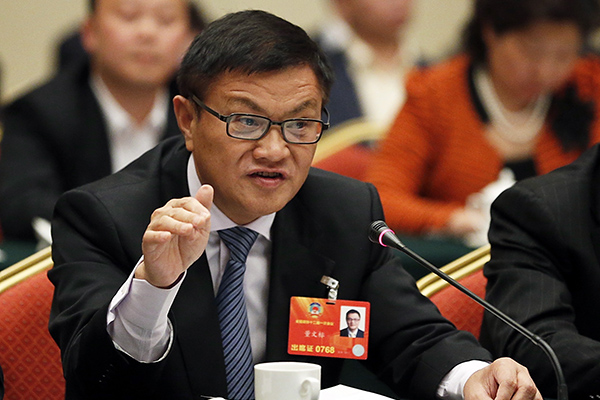 Dong Wenbiao, board chairman of China Minsheng Investment Corp Ltd. [Photo provided to China Daily]
Private investment giant already in talks with possible partners to set up fund in the US
China Minsheng Investment Corp Ltd, the country's largest private investment conglomerate, is looking for high-end manufacturing and renewable energy projects in Europe and the United States, a top company official said.
"We have been discussing with more than 10 investment banks about possible opportunities and we will definitely do something this year," said Dong Wenbiao, board chairman of the company.
Dong, also a member of the National Committee of the Chinese People's Political Consultative Conference, made the remarks on the sidelines of the annual meeting of the CPPCC.
"Our investment overseas will be carried out through large-scale investment funds, with each of them no smaller than $3 billion," Dong said.
China Minsheng is now talking with local partners to set up a fund in the US, but Dong declined to name the companies.
The move came after the young but ambitious company set up its first investment fund in Europe in June last year by clinching a joint venture with international property service provider Savills in London.
They established a real-estate fund, with China Minsheng being the cornerstone investor with seed capital of up to 30 million pounds ($42.8 million). The majority of the seed capital in the fund was invested in Savills' Prime London Residential Development Fund II. The joint venture will expand its investment into other markets in Europe after raising more capital from China and internationally.
Prior to that China Minsheng had launched an investment fund with registered capital of $3 billion in Singapore with partners including Hana Financial Group Inc and CP Group. Dong said the fund would serve as a major platform for China Minsheng's investment in Asia.
The conglomerate revealed plans in March last year that it would lead a group of Chinese private companies to invest $5 billion to develop an industrial park in Indonesia. The park will bring a wide array of industries to the southeastern Asian country, including power generation, machinery building, chemicals and general aviation.
"The park will be launched in May and has attracted more than 30 Chinese companies," Dong said.
China Minsheng was launched in August 2014. It has been dubbed as a private version of China Investment Corp, which manages the country's $200 billion sovereign wealth fund.
With registered capital of 50 billion yuan ($7.7 billion), it was initiated by the All-China Federation of Industry and Commerce and launched by 59 private companies in such diverse fields as machinery, information technology, finance and new energy. Its shareholders have combined assets of about 1 trillion yuan.
The establishment of the company has been regarded as an important step in the reform of China's investment system as it could help stimulate the vitality of social capital.
Private companies contributed 67 percent of the country's total overseas direct investment in the first three quarters of last year, according to the Ministry of Commerce. Data from Morning Whistle Group showed that private companies completed 76.78 percent of China's mergers and acquisition deals in 2015.
"Private companies would play an increasingly important role in China's overseas investment," said Zuo Zongshen, chairman of Zongshen Industrial Group Co Ltd, which is one of the shareholders of China Minsheng.