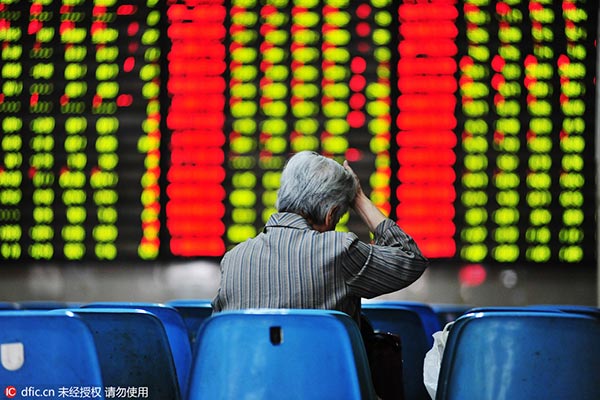 An investor looks at an electronic board showing stock information at a brokerage house in Nanjing, Jiangsu province.[Photo/IC]
Uncertainties surrounding a potential departure of the United Kingdom from the European Union and the outcome of the US presidential elections will continue to grip markets in the months ahead, Dominic Rossi, global chief investment officer at Fidelity International said on Monday.
Rossi said that global stock markets are expected to record only moderate growth during the second half of 2016 on the back of intense political risks.
But earnings growth in 2017 underpinned by a stable dollar and stabilized commodities prices should provide ample buying opportunities, he noted.
"The economic fundamentals in certain developed markets are however improving, with industrial production and domestic consumption edging up, boding well for global growth prospects," Rossi said in a press statement.
"European industrial production has been surprisingly resilient and has recently accelerated and a modest rise in manufacturing surveys has also been observed in both the US and China," he added.
Raymond Ma, a portfolio manager at Fidelity International said innovations will become China's key growth driver in the next decade.
Ma said Fidelity International continues to remain biased towards the "New China" sectors – consumer-related and services as well as industrial upgrading sectors.
In particular, he expects companies that have strong technological knowhow and innovative products to witness the highest growth in the foreseeable future.