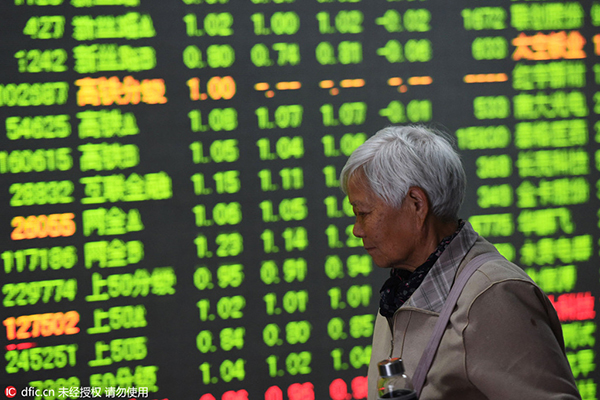 A Chinese investor walks past an electronic display showing prices of shares at a stock brokerage house in Hangzhou city, East China's Zhejiang province, May 9, 2016. [Photo/IC]
Market ponders possible tightening of monetary policy and sustainability of economic rebound
Investors may have to bear with short-term pains of greater volatility in the Chinese stock market as the securities regulator stepped up the effort to rein in the speculative bubble, analysts said.
"Capital has been concentrated too much in the stocks of smaller companies, startups and shell companies. The latest regulatory shift could mean that they may face greater correction pressure," said Shen Zhengyang, an analyst at Northeast Securities Co Ltd.
The benchmark Shanghai Composite Index last week extended the May 6 slump, the biggest in more than two months, by declining 2.9 percent to 2,827.11 points.
Technology companies and startups in segments like online finance, film and television, gaming and virtual reality, as well as the shell companies that fit into the investment theme of overseas-listed Chinese companies seeking to delist abroad and list in China, were among the stocks hit hardest by the top securities regulator's intention to subject suspected speculative trading to greater scrutiny.
But the regulator said on Friday that the current policy on refinancing and mergers and acquisitions by listed companies remains the same and it will make an official announcement if there is any adjustment to the rules.
The China Securities Regulatory Commission has also been taking a closer look at the listing of the hitherto overseas-listed companies on the A-share market through backdoor listing, also known as reverse merger, a typical practice of taking control of an already listed shell company to avoid the lengthy process of an initial public offering.
"Organic growth of listed companies has dwindled and the market sentiment is more about speculation and chasing growth through mergers and acquisitions. That's why, the market reacted so negatively when the regulatory stance changed," Shen said.
Analysts said that other factors that could weigh on the stock market are investors' concerns over the sustainability of the economic rebound in the first quarter and the possible tightening of the monetary policy to rein in credit bubbles and reduce financial leverage.
Some economists have scaled back their forecast on credit easing by the People's Bank of China, the Chinese central bank, for the rest of the year after the People's Daily quoted an "authoritative person" as saying that China should avoid using strong stimulus to pump up investment growth in the short term and should not support growth by adding leverage.
"We have scaled back our forecasts on the PBOC easing to one 25-basis-points cut in the benchmark one-year lending and deposit interest rates from two (cuts) and pushed out the timing of the cut to the third quarter," said Tim Condon, head of research and chief Asia economist at ING Bank.
Jiang Chao, an analyst at Haitong Securities Co, said the absence of massive credit easing could mean that the Chinese economy and the capital market will experience short-term pain.
"But it would prove beneficial in the long run after the short-term bubbles are squeezed," he said.
lixiang@chinadaily.com.cn