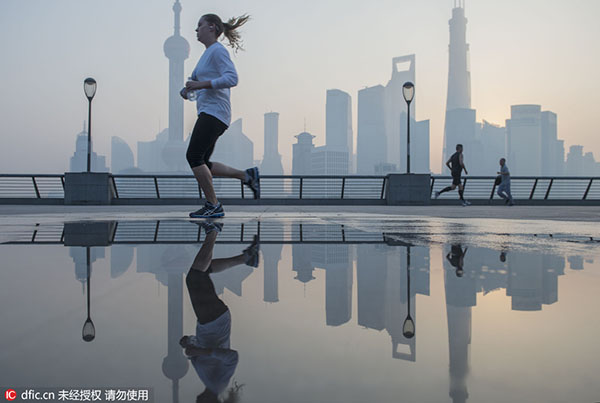 A jogger runs on the Bund after a rain with the skyline of skyscrapers and high-rise buildings in Shanghai, Nov 7, 2013. [Photo/IC]
Chinese companies have signed more than a dozen overseas deals worth $110.8 billion so far this year, already surpassing the full-year record of $106.8 in 2015, The Wall Street Journal reported.
The newspaper quoted Dealogic, a UK-based data provider, saying that 17 cross-border deals were valued at $1 billion or more, including China National Chemical Corp's $43 billion cash offer for a Swiss pesticide and seed company Syngenta.
As the current top cross-border buyer, the country could likely finish the year first and that would for the first time ever place it on the throne, ahead of the United States. The US has dominated the rankings in overseas acquisitions since 2007.
Chinese firms have been beefing up efforts to extend their global outreach, despite the globally gloomy outlook.
An earlier report by Ernst & Young (EY) said the country's overseas investment is expected to increase more than 10 percent in 2016 and keep the momentum in the next five years.
EY said the value of overseas M&A surged 74 percent last year, led by such sectors as TMT, 163 percent year-on-year growth, auto and transportation, 128 percent, and financial services, 101 percent.