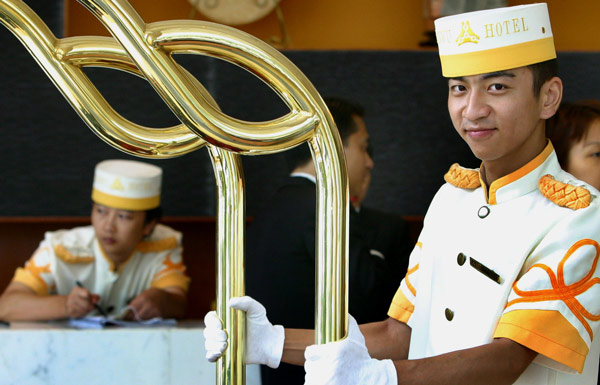 A bellboy helps guests carry their luggage in a star hotel in Nanjing, Jiangsu province.[Photo/China Daily]
Tax authorities have said it is not right to raise hotel room rates citing the new value-added tax or VAT, which replaced the old revenue-based tax on Sunday.
The actual tax burden of the service sector under the new system will likely ease, authorities said.
International hotel chains, including Hilton Hotels & Resorts, Hyatt Hotels Corp and Marriott International Inc, have raised their room rates in the Chinese mainland, effective Sunday, by attributing the rise to VAT, which will be extended to several industries.
According to the Ministry of Finance, VAT will be levied at 6 percent on businesses with annual revenue of more than 5 million yuan ($769,000). Businesses with annual revenue of less than 5 million yuan need to pay only 3 percent VAT.
"Those hotels charged an extra VAT fee, without canceling the existing 5 percent business tax. Levying VAT on top of the business tax is a misinterpretation of the new policy," said the local taxation bureau in Shanghai.
Tax officials in Shanghai recently discussed the issue with some hotel chains. Inter-Continental Hotels Group Plc became the first hotel that canceled the price rise after the meeting. It will charge 10 percent service fee, and 6.6 percent VAT relative to the room rates.
But other hotels did not follow suit. For instance, Hilton posted on its website that the tax reform will cause customers to pay an extra 6 percent VAT on top of the existing 15 percent service charge, including 10 percent service fee and 5 percent business tax.
A room at the Hilton in Shanghai would thus cost about 1,500 yuan ($230) per night, in addition to a service charge of 225 yuan, and VAT of 90 yuan, according to the hotel's website.
The pricing authorities in Shanghai said hotel chains should apply a proper method to calculate the correct room rates. The pricing regulator will launch market inspections, and prosecute hospitality firms charging excess rates in the name of VAT.
Officials said the tax reform is expected to reduce burdens of businesses as it will end discrimination against the service sector.
Besides, companies will be able to deduct their input VAT, including procurements of materials, equipment and services, the purchase or renting of real estate properties, and office expenses.
Under the new system, hotels with annual sales revenues of less than 5 million yuan will pay 40 percent less tax.
People's Daily cited Finance Minister Lou Jiwei as saying that price adjustments are independent business decisions of hotels. Attributing the price rise to VAT is groundless, there is no direct link, he reportedly said.
Analysts said VAT may hurt sales revenues of enterprises, but overall, it will likely have a positive impact on businesses as their costs will decline, given the input VAT deductions.
The hike in hotel rates may well lower room occupancy levels, and the resulting loss in sales revenue may outweigh the gains from higher room rates, they said.