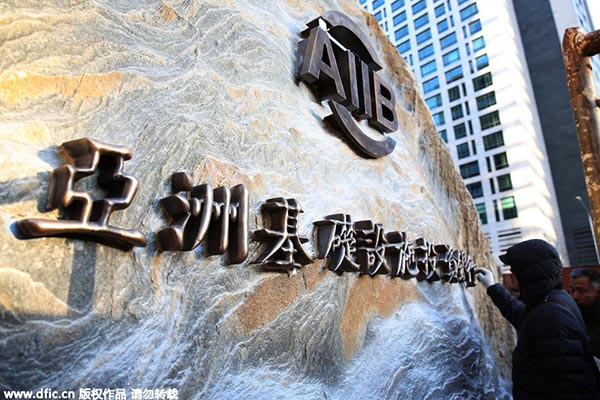 A worker installs signs on a giant rock in front of the headquarters building of the Asian Infrastructure Investment Bank (AIIB) in Beijing, January 12, 2016.[Photo/IC]
The Asian Infrastructure Investment Bank has reported its first co-financing project in Pakistan, a choice that a financial chief said is not related to close ties between China and Pakistan.
The China-led multilateral development bank has identified a series of co-financing projects with the Asian Development Bank, according to a statement released by both banks on Monday.
The statement came after AIIB President Jin Liqun and ADB President Takehiko Nakao signed a memorandum of understanding in Frankfurt on the sidelines of the ADB's 49th annual board of governors meeting.
The first of these projects is expected to be Pakistan's M4 highway, a 64-kilometer stretch of motorway connecting Shorkot to Khanewal in Punjab province.
The financing level will be $300 million, with the two banks contributing roughly an equal amount, Nakao said.
The statement said: "The agreement sets the stage for jointly financed projects. The AIIB and ADB are already discussing projects for co-financing in the roads and water sectors."
Responding to questions on whether the project in Pakistan had been chosen first as a result of close ties between China and Pakistan, Nakao said this had come about "just by chance".
"The Pakistan project is the most mature one. There is a series of forthcoming projects, which will probably be approved and announced in June."
The AIIB expects to approve about $1.2 billion in financing this year, including 12 projects with the World Bank and the ADB. Meanwhile, China is implementing its $46 billion plan for a China-Pakistan economic corridor.
A Financial Times report said earlier that besides the project in Pakistan, the AIIB is considering a road project in Tajikistan and a ring road in Almaty, Kazakhstan.
The report said the ADB led the Pakistani project, while the AIIB participated later. The ADB said it will administer the project on behalf of the other co-financiers and that bidding must be carried out in accordance with the ADB's procurement guidelines and procedures.