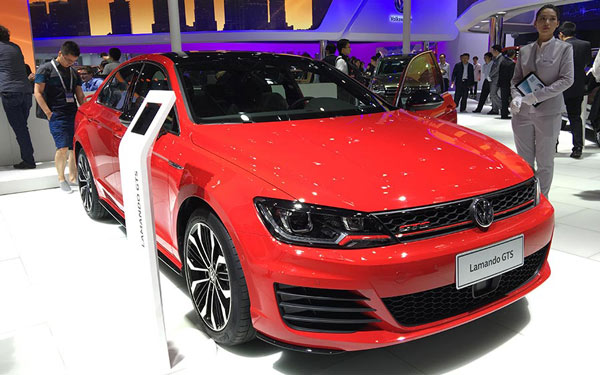 SAIC Volkswagen booth is seen at Auto China 2016 in Beijing, April 25, 2016. [Photo by Liu Zheng / chinadaily.com.cn]
The gasoline- and diesel-guzzling passenger vehicle industry may be taking tentative steps toward producing new-energy vehicles or NEVs with a focus on small models, but SAIC Motor Corp Ltd, China's largest automotive company, is thinking, and making, big in this context.
At the ongoing Auto China 2016 in Beijing, SAIC Maxus, a group firm of SAIC Motor, has put on display two big-size zero-emission electric vehicles: the seven-seater EG10 and the 15-seater EV80.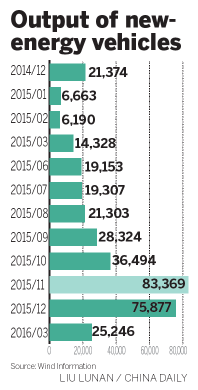 What's more, the auto major is already thinking of exports, particularly to the Middle East, Australia and New Zealand, even though the governments there are not as zealous as China in encouraging environmentally friendly surface transport technologies, senior officials of the company said.
"We are in this for the long term. If you invest a lot, you earn a lot eventually," said Shawber Guan, SAIC Maxus' overseas business sales manager.
Besides, SAIC Motor will step up efforts to increase sales of its NEVs in China, said Wu Fengjie, its regional deputy general manager for sales.
Three major initiatives will mark SAIC's efforts:
One, focus on urban families for the EG10, and travel firms and vehicle-based businesses like mobile coffee shops for the EV80. (To popularize the concept, SAIC Maxus put up a unit of the EV80 custom-built as a mobile coffee shop at the expo.)
Two, heavy investment will be made toward "changing the mindset" of peoples across its global market footprint. "We have already made a good start. Supportive government policies and advanced technologies are good but not enough. So, we'll increase our advertising budget to explain the advantages of NEVs to consumers in our target markets," said Guan.
Three, SAIC will support creation of the necessary infrastructure like charging points.
"It would be good if city-level governments emulate Shanghai where buyers of NEVs get free license plates that otherwise cost 86,000 yuan ($13,200) each. The city will install 10,000 charging stations in the coming three years," said Guan.
SAIC's NEVs, company officials said, can cover a distance of 150-200 kilometers on a full charge. That's adequate to take care of daily needs of city couples driving to office together, dropping their children at school, and weekend needs like shopping or short getaway rides for picnics and sightseeing, they said.
This year, SAIC is targeting to sell in China about 6,000 units of the EV80 priced around 500,000 yuan each, and about 1,000 units of the EG10 priced around 400,000 yuan each.
"Our electric vehicles can attain speeds of up to 200 kmph. We can use our manufacturing capacity to make up to 20,000 units per year," said Guan.
It is understood that a senior official of China's People's Liberation Army checked out SAIC's NEVs at the expo and was all praise for them.
"But we are not intending to actively seek government orders. We are proud of our quality and reputation. The government's support for NEVs itself is encouraging. Over and above that, if we also receive orders, we would be very glad."
In the markets in the Middle East, the United Arab Emirates is said to be keener than others to switch over to NEVs.
During the Dubai Motor Show in November, the UAE industry minister appreciated SAIC's NEVs. Local distributors in Dubai later requested SAIC to arrange a few sample vehicles for extended test runs, Guan said. "We are in the process of doing that."
The European Union regulations are moving toward the Euro 6 standard for emissions, which is expected to increase demand for electric vehicles. So, SAIC will target that market, including the UK, Guan said. "We have long-term plans to enter the US and Canada as well."