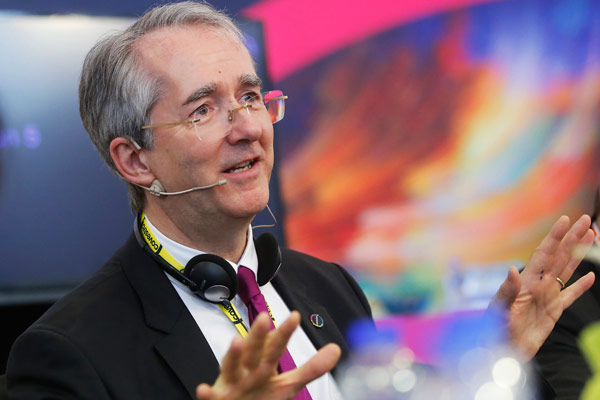 Patrick Thomas, CEO of German plastics and chemicals giant Covestro AG. [Photo provided to China Daily]
German plastics and chemicals giant Covestro AG is upbeat about the future of China's manufacturing sector despite the country's economic slowdown, the company's chief executive officer said.
Covestro went through a comparatively harder time in China in the second and third quarters of last year due to a slump in the financial markets and the problem of destocking.
However, the momentum quickly picked up in the fourth quarter and has been even more noticeable since the Spring Festival in February this year, said CEO Patrick Thomas.
As a result, Chinese market recorded a 13.3 percent of sales increase in the first three months of this year, up from the 4 percent last year and the highest in the entire Asia-Pacific region. During the same period, the group's adjusted core earnings reached 508 million euros ($571 million), an 8.5 percent year-on-year increase.
The company's Asia-Pacific headquarters is now based in Shanghai, a reflection of the rising importance of the Chinese market to Covestro.
More importantly, the headquarters for its global polycarbonate business, which is one of Covestro's core businesses, is also now located in Shanghai. This center also runs business for developed markets such as Europe and the United States.
The reason is as simple as "China is the most important market in the world", said Thomas. He spoke on the sidelines of the 30th International Exhibition on Plastics and Rubber Industries, which concluded in Shanghai last week.
Covestro has also expanded the scope of its research center in Shanghai, contributing to global market studies. Implied in all these changes is the fact that China is where the technology demand comes from, according to Thomas.
One examples is the windmill blades that Covestro has helped make in China. The country is now the largest single source of windmill blades in the world. The company has managed to produce a windmill blade up to 50 meters long with one single liquid injection.
"It is very exciting, as it is the biggest ever single polyurethane component ever. So developing that technology locally is very important," he said.
Confidence in the Chinese market comes from the evolution that Covestro has witnessed in the past few years. While the company used to resort to traders for selling some of their products, they have been seeing a growing number of customers skipping traders and going directly to them for questions and more products. Covestro's coating business for example, has no traders at all in China right now.
With the central government's economic initiatives such as Made in China 2025, Thomas said he believes that there has come a tipping point of change for China's manufacturing industry. The quality of Chinese manufacturing exports, such as automobiles, has been largely improved while the prices are more affordable compared with European counterparts.