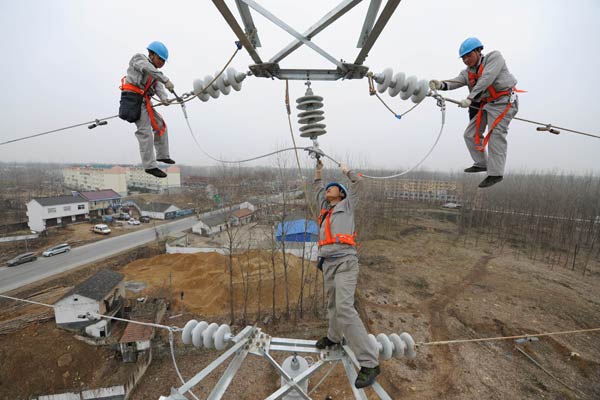 Workers fasten electric wires in a rural area in Chuzhou, Anhui province. [SONG WEIXING/FOR CHINA DAILY]
BEIJING - China will expand its power pricing reform nationwide in 2017 following a two-year pilot period in several regions to open the electricity industry, an official said Tuesday.
The power transmission and distribution pricing system reform will be pushed forward for all power grids nationwide next year, Zhang Manying, an official of the National Development and Reform Commission (NDRC), said during a press conference.
First rolled out in Shenzhen in 2014 and then introduced in five more regions last year, the reform aims to remove official interference in price determination and grant the market a decisive role.
The current controls on electricity prices allow State-owned power grid companies to make unreasonably large profits and adds to the burden of power users. Under the reform, the prices will go down.
Zhang estimated around 5.56 billion yuan ($854.6 million) will be saved by enterprises in the five regions under the pilot.
The NDRC announced early this month that the reform will be expanded to 12 more provincial power grids and one regional network in 2016, including Beijing, Tianjin, Chongqing and Guangdong.