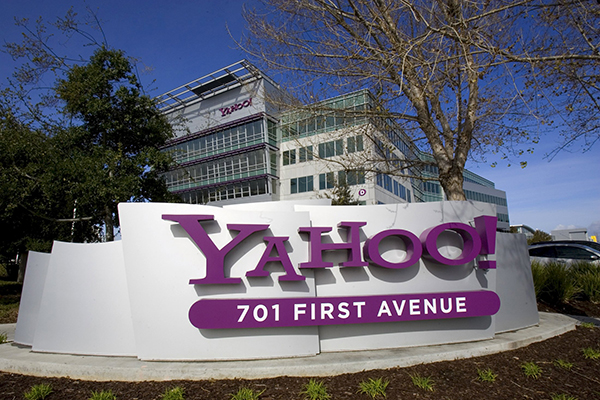 A Yahoo! sign sits out front of their headquarters in Sunnyvale, California, Feb 1, 2008. [Photo/Agencies]
Microsoft Corp executives are in talks with private equity firms considering bids for Yahoo Inc saying the company might be willing to lend "significant financing" to their efforts, reported tech news site Recode.
The latest update comes as Yahoo launched an auction of its core business in February after it shelved plans to spin off its stake in e-commerce behemoth Alibaba Group Holding.
Yahoo has faced increasing pressure from shareholders to sell its core business instead of carrying out a spinoff that would separate the company from its multibillion-dollar stakes in Yahoo Japan and Alibaba Group.
However, questions rose on the company's commitment to the action, as CEO Marissa Mayer told Reuters in February that Yahoo will entertain offers as they come but its first priority is a turnaround plan.
Microsoft's interest could give the bidding process some seriousness, reported the Decode, adding that sources said the software giant has made no commitments so far to any investors, and any discussions are exploratory.
Microsoft's move is an attempt to ensure a good partnership with Yahoo's buyer, said the website citing unnamed sources, as the company maintains close search and advertising ties with Yahoo.
Yahoo has set an April 11 deadline to submit preliminary bids for its core web business and Asian assets, according to the Wall Street Journal on Monday.
The company asked bidders to hand in proposal details, including what assets they hope to acquire and for what price, reported the Journal, citing a letter sent to possible bidders.
According to the newspaper, some buyers may be only interested in its core web business, and others may also propose to acquire the stakes in Alibaba Group or Yahoo Japan. Potential bidders include telecommunications company Verizon Communications Inc and publisher Time Inc, as well as private equity firms TPG and KKR, but the process is in the early stages.