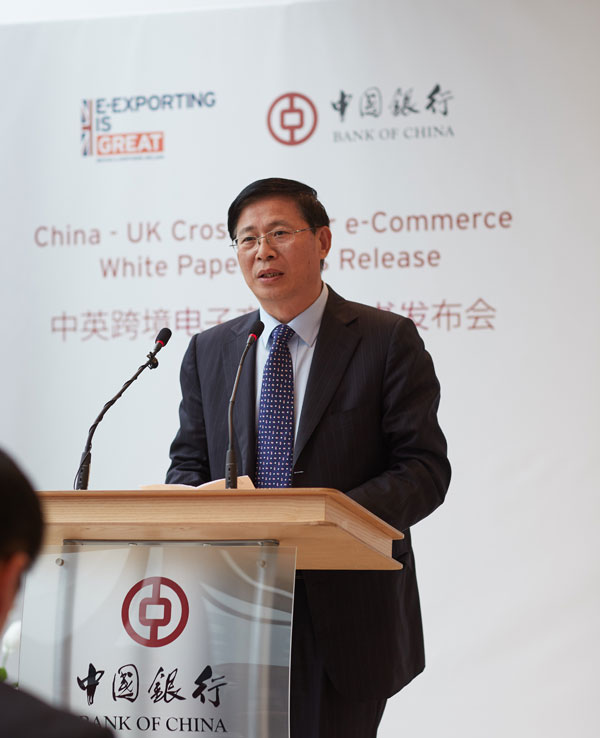 Xu Luode, executive vice president of Bank of China Group. [Photo provided to chinadaily.com.cn]
Bank of China and UK Trade and Investment (UKTI) jointly launched a white paper in London on Wednesday, providing detailed information to assist British enterprises who intend to participate in cross-border ecommerce business in China.
The 'China-UK Cross-border E-commerce White Paper' included China's cross-border ecommerce market conditions, regulations and policies. It gave an overview of Chinese national policies and guidelines, financial resources, logistic facilities and custom clearing procedures in Chinese cross border e-commerce pilot cities, and outlined the benefits that can be gained by adopting a structured approach to e-commerce market entry.
China has currently appointed 13 cities in a pilot e-commerce program, meaning companies can set up bounded warehouses in these cities to store e-commerce imports, and these products will go through custom clearing when they leave the bounded warehouses and are delivered to customers. These cities are Hangzhou, Tianjin, Shanghai, Chongqing, Hefei, Zhengzhou, Guangzhou, Chengdu, Dalian, Ningbo, Qingdao, Shenzhen and Suzhou.
The white paper also detailed Bank of China's cross-border ecommerce financial solutions, which include cross border currency exchange, trade financing, and cash management. As a market leader, Bank of China now accounts for 46.1 percent of the whole cross-border ecommerce foreign exchange transaction market.
The white paper came at a time when the UK and China are enjoying rapidly growing trade, and experts are expecting bilateral trade to accelerate further due to a 'golden era' in the two country's relationship. In 2015, bilateral trade between China and the UK reached $78.54 billion, a large growth from just $11 billion in 2010.
Xu Luode, executive vice president of Bank of China Group, said that UK China cross border trade has great potential to increase, and the Bank of China is keen to provide service-oriented solutions to help businesses.
The Bank of China and UKTI also held a seminar on ecommerce and match making sessions on the same day to help companies hold one-on-one discussions to explore opportunities. It was attended by 14 Chinese cross-border e-commerce platforms, logistics companies and other service providers, including Alibaba, JD.com, Dolphin Supply Chain and NetEaseKaola, and over 70 British companies.
Hajera Memon, founder and managing director of Shade 7 Limited, a British firm selling children's pop-up books, said she found the seminar very informative to learn more about methods of doing ecommerce in China, and her company is now considering engaging in cross border ecommerce activities with Chinese partners.
Liu Chao, chairman of Avenue51, a UK based logistics and service company that helps British brands to access the Chinese e-commerce market, said many Chinese consumers are already familiar with British products through their travels, so this market has significant growth potential.
Liu said many small and medium British companies have engaged in Chinese cross-border ecommerce opportunities with confidence, because their products are already purchased extensively over the years by Chinese consumers through overseas contacts, who send the products as parcels before the opening of China's cross-border ecommerce.
According to a 2014 research by Ipsos Mori/PayPal and OC&C Strategy Consultants, the UK accounts for 6 percent of China's total cross-border demand. It forecasts that British ecommerce exports to China would reach 14 billion pounds in 2020.
China's cross-border ecommerce volume grew rapidly since 2014 when policy changes enabled this business model. Compared to the traditional import business model, the overseas seller who engages in cross-border ecommerce trade does not need to have a China registered entity, does not need to store products in physical warehouses in China, and the process of completing product registration with Chinese import customs is much faster.
According to a PayPal and Ipsos research, 35 percent of Chinese online shoppers purchased cross-border products online once in 2015 compared to 26 percent in 2014. The Chinese Ministry of Commerce forecasts cross-border e-commerce will be worth 6.5 trillion yuan in 2016, accounting for 20 percent of the country's total foreign trade.
The event on Wednesday builds on the success of the Bank of China's inaugural cross-border ecommerce exchange event in New Zealand in 2015. The cooperation Bank of China has with UKTI on the white paper also follows the two groups joint hosting the first China-UK small and medium sized enterprises match making event in Manchester in October 2015, and is further demonstration of the two countries' golden era of cooperation.
Bank of China said that it will in the future leverage its global network to expand the cross-border e-commerce business model into other major markets- such as Macao, Malaysia and Italy, providing clients with innovative and cost effective cross-border e-commerce service solutions.