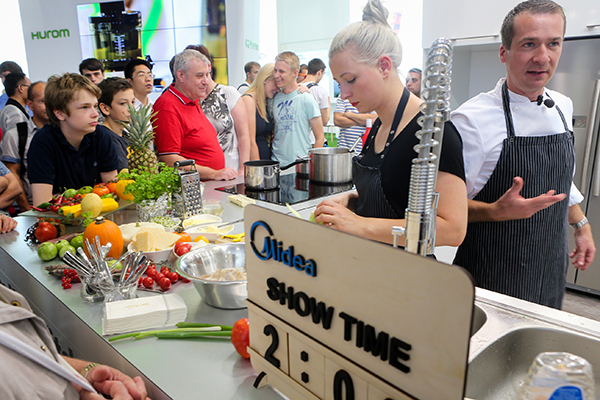 Staff from Midea Group show how its smart kitchen works at an international electric home appliance expo in Berlin, Germany. [Photo/Xinhua]
Company focuses on intelligent tech as it transforms business from manufacturing
Smart solutions will be a key factor to drive future growth for China's home appliance makers, amid a market slowdown due to oversupply, said an industry insider.
Fang Hongbo, chairman of the board of Midea Group, said the company has been on a process of transforming its business from intensive manufacturing to the introduction of more smart solutions to home appliance products.
"By focusing on intelligent technologies, we are providing competitive home products with more added-value for our global customers," said Fang.
Midea, based in Guangdong province, has unveiled more than 30 categories of smart products, from electric cookers to air conditioners, since it announced an "M-Smart" strategy, which focused on research and development of smart home appliances, in 2014.
The company's newly introduced refrigerator, being displayed at the Appliance & Electronics World Expo, which opened on Wednesday in Shanghai, integrates solutions for food, health and drug-storing management by being equipped with smart image-recognition and label-scanning technologies.
According to the company, its smart services for home appliances will be put into operation by 2017, after opening a smart service platform to solutions providers.
A number of domestic and international solution providers, including Huawei Technologies Co, Xiaomi Corp and IBM Corp, have signed cooperation agreements with Midea to facilitate the company's smart services.
"The home appliance market has been oversupplied in the past few years, resulting in fierce competition, with many providers cutting their prices to expand their market share," said Fang.
According to Research and Markets, a market research organization, the global smart home appliances and service industry will grow quickly in the five years ahead, with the market value to hit $68 billion by 2018.
Midea's efforts to introduce smart solutions are in line with the China's new reform program, according to Fang.
China has outlined a supply-side structural reform plan, with the Government Work Report, which was delivered by Premier Li Keqiang at the ongoing annual national legislative meeting, emphasizing the country's determination to cut low-end supply while increasing high-end supply and public products and services.
"By boosting production efficiency over the previous years, we are more able to provide high-end products with advanced technologies to meet customers' demand, helping us make a profitable business," said Fang.
According to Fang, Midea has cut its production capacity, without adding any new production lines and factories, while introducing more advanced equipments in its processing facilities over the past four years.
"Cutting overcapacity, de-stocking and reducing labor costs, while increasing production efficiency will become part of the major efforts for the company's future development," said Fang.
The company realized a net profit of more than 10 billion yuan ($1.53 billion) in 2015, exporting its products to more than 200 countries and regions.
Midea, which was established in 1968 in the then-agricultural township of Shunde in Guangdong, secured more than $8 billion in exports in 2015, according to the company.