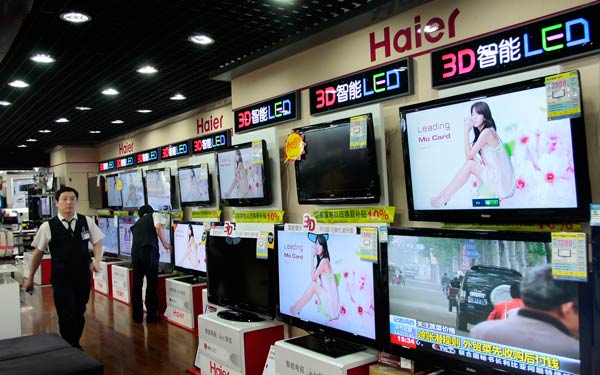 Sales people inspect Haier-branded 3D smart TV products during a preparatory work before business opening at an electrical appliances department store in Nanjing, Jiangsu province. [Photo/Provided to China Daily]
Chinese home appliance makers are in a new competition for gaining an edge in innovation. They are forging tie-ups with technology companies to make smart home products.
The Shunde, Guangdong province-based Midea Group, which makes electrical appliances, is one of the trendsetters. It announced research and development of smart home appliances in March 2014.
It began making its smart or intelligent products across 30 categories, from electric cookers to air conditioners, and launched an app to inter-connect and remote-control them last year.
The company expects its intelligent products to account for half of its sales this year, Li Qiang, head of Midea's Research Institute for Smart Homes, told China Daily.
Midea's sales in the first three quarters of 2015 touched 111.37 billion yuan ($17 billion), up 2 percent year-on-year.
"The R&D of smart home products is a major part of Midea's technological innovation as the company presses ahead with its transformation and upgrades to the Internet age," Li said.
Midea invested nearly 3 billion yuan in a global R&D center in Shunde district of Foshan city in 2014 to incubate smart home products.
In December 2014, it tied up with Xiaomi Corp, China's then largest smartphone maker. Seven months later, their tie-up produced an intelligent air conditioner that can automatically adjust the ambient temperature to suit the body condition as monitored by Xiaomi's wearable device, an electronic bracelet.
Midea went on to top Chinese home appliances makers on the Fortune China 500 list last year.
Last year witnessed many such corporate marriages between players in the manufacturing sector and those from the IT industry.
For instance, Haier Group and Gree Electric Appliances Inc, which, with Midea, are China's top three makers of white goods, forged tie-ups with Huawei Technologies Co Ltd, the world's third biggest smartphone maker, and JD.com, a leading online shopping site, respectively.
The Haier-Huawei strategic partnership, formed in August, aims at integrating intelligent modules, interaction between mobile terminals and home appliances and sharing of cloud-computing data. The Gree-JD tie-up of December focuses on marketing and online sales.
Besides integrating Internet technologies, traditional manufacturers are adopting new marketing mindsets of their tech-savvy partners.
For instance, Galanz Group, a household appliances manufacturer based in Zhongshan, Guangdong province, vigorously promoted the so-called "fan economy" last year to deepen bonds with its legion of loyal consumers, whom it calls "Tomatoes".
Galanz, known for its microwave ovens, organized sales promotions and cooking competitions involving its kitchen appliances.
Such activities have an eye on estimates of future market activity. According to a joint report by the China Household Electrical Appliances Association and All View Consulting Ltd, the output value of the smart home industry is estimated to surge from 5 billion yuan in 2010 to 1 trillion yuan by 2020.
The size of the smart home market in China will also expand from 15 billion yuan in 2012 to nearly 330 billion yuan in 2020, according to a report by Qianjia.com, a website specializing in intelligent product building, smart home appliances and artificial intelligence.
Oddly, the excitement that marks the launch of all kinds of smart products appears limited to makers of home appliances, and does not translate to fantastic user experience.
A 2014 survey by QQ.com showed that 95.19 percent of the 50,338 respondents were interested in a smart home alright, but only 12.47 percent thought the smart home products available in the market meet their expectations.
For instance, Shen Guanghui, 25, a salesperson at a toys wholesaler in Chongqing, started buying intelligent household appliances in 2014. He described a scenario of his ideal smart home: When he prepares lunch in the kitchen, the air-conditioner will "hear" the sounds made by the cooker and automatically starts to cool the dining room, while the kettle will automatically start to boil water based on its "memory" of his habit of drinking tea after cooking.
"But now, I still need to order most of the so-called intelligent home appliances to do what I want them to do with apps on cell phone. They are not smart enough," Shen said. "And different brands have their own apps to control their smart home products, which is inconvenient."
Li from Midea said the company's app will be compatible with smart appliances made by other companies. "It is true that many smart home products in the market just facilitate the operation with mobile apps but fail to solve users' 'pain points' to serve as necessities in their life."
Li has a solution in mind. "All the players in the smart home industry should together set up technological standards and open their operational systems to each other."