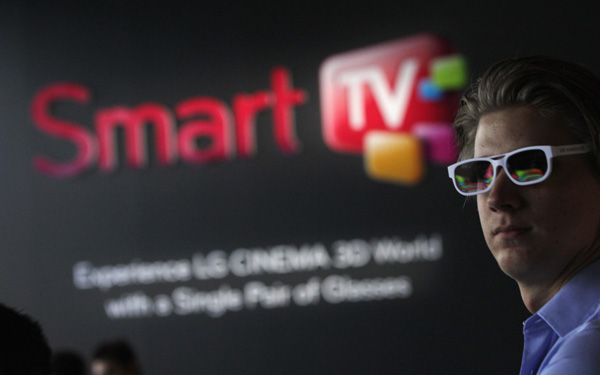 A visitor wears 3D glasses while watching a presentation of 3D smart TV. Chinese companies are stepping up smart TV production to meet growing demand.[Photo/China Daily]
TCL, Changhong and Konka transform their operations by plugging into new technologies
Chinese home appliance makers are giving dimensions of reality to the "Internet Plus" strategy championed by Premier Li Keqiang. Slowly but surely, they are pressing ahead with the task of integrating Internet technologies with their various operations.
The result of that strategy is consumers on the move can now control their television, refrigerator and air conditioners at home through their mobile phones.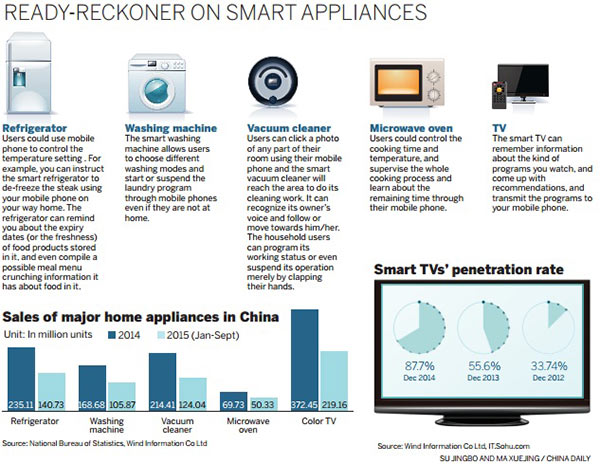 In other words, Internet technologies, which were hitherto used largely in low-end manufacturing, are making medium and high-end manufacturing intelligent as well, marking Chinese industry's emphasis on technological innovation and upgradation.
Electronics giant TCL Corporation is leading the drive. Its 2014 strategy for transformation of its operations, titled "Double Plus", is now taking the form of "Intelligence Plus Internet" and "Products Plus Services", with focus on a new business model and user involvement.
"We have switched focus from product management to user management. We provide intelligent products and services using the Internet, big data and cloud computing," said Liang Qichun, assistant president of TCL.
The Guangdong-based company has established an open, interactive system to guide and motivate prospective users/buyers of its appliances to participate in the whole process of product design, development, testing and evaluation.
"We conduct big data analysis of user needs, behaviors and habits through the establishment of a user database to make personalized smart products," said Liang.
Thus, TCL now makes a range of smart products like TVs, set-top boxes, cell phones, wearable devices, IMAX home theaters.
Its smart home system is a solution to "manage multi-terminals by using just one machine". Management and remote control of a number of smart appliances is unified through an intelligent app.
The company has established a smart TV platform, Guangzhou Huan Network Technology Co Ltd, which connects 32 million smart terminals. Through tie-ups with Internet giant Tencent Holdings Ltd and video streaming website iQiyi.com, it has built a TV ecosystem that offers videos, games and life services.
That's not all. Through another tie-up with the China Research Institute of Film Science and Technology, it promotes GoLive TV, which moves a cinema into the living room: users can watch a movie playing at a cinema in real time. There are already more than four million users of GoLive.
In December of last year, TCL struck a strategic pact with LeTV Holdings Co Ltd to jointly develop innovative products/services to leverage their combined user base and supply chain resources.