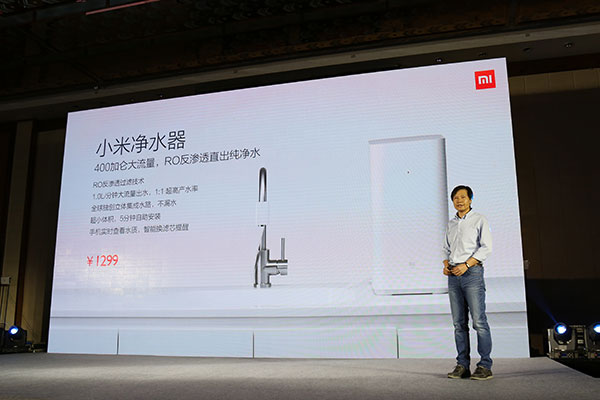 Lei Jun, co-founder and CEO of Xiaomi Corp, introduces a Xiaomi water purifier at the launch event in Beijing, July 16, 2015. [Photo provided to chinadaily.com.cn]
Chinese smartphone maker Xiaomi Corp launched a smart water purifier on Thursday, another smart home appliance following its launches of smart TVs, Internet TV boxes and air purifiers.
The device can filter all the bacteria, heavy metal elements, and other contaminants that pose health risks to humans. Besides, it can also remove the bad smells and make the water more drinkable for users, said the company.
Aside from the traditional water purifying function, the all-new Xiaomi product can be connected to a smartphone through wifi, allowing users to monitor water quality even in remote places.
It can also monitor the water quality in real time through a connected smartphone, and tell users when the filters need to be replaced, said Lei Jun, co-founder and CEO of the company, at the launch event.
The product is priced at 1,299 yuan ($209.27), with three replaceable filters selling at 59 yuan, 69 yuan and 499 yuan respectively. Customers can preorder it on Xiaomi's official website now and it will sell online on July 28, according to the company.
Lei also added that with a low price and high-end performance, the Xiaomi water purifier aims to enable consumers to drink cleaner water and will hopefully revolutionize the sector.
The water purifier is the world's third largest smartphone vendor's newest weapon in the battle for the home appliance market as the company launched an air purifier last December, and has partnered with China's domestic appliance maker Midea Group last year.
The company also unveiled the new Xiaomi TV 2S, which is said to be as thin as its Mi 4 smartphone and Xiaomi's tablet, on Thursday. The TV 2S is the new generation of the company's TV 2 which was released last May.
The 48-inch flat-screen TV sells at 2,999 yuan, and the one with a set of sound box is priced at 3,999 yuan, the company announced.