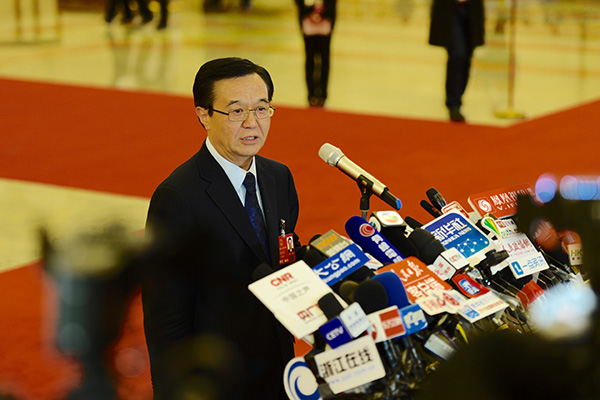 Gao Hucheng, minister of commerce. [Photo/CFP]
Commerce Minister Gao Hucheng said China is capable of putting its economic growth on a firmer footing despite the fact that no exact growth target for foreign trade was set out in the Government Work Report this year.
Even though China did not achieve its growth target for foreign trade last year due to sluggish global demand and falling commodity prices, Gao said the decline in the nation's export growth rate was far lower than that of other major economies.
This is the fourth time in the past 20 years that China has not set a specific target for its foreign trade growth.
"In addition to weak global demand, other uncertainties, such fluctuations in foreign currencies and policy adjustment in major economies have had an impact on both global trade and China's foreign trade volume," the minister said.
Gao said the dropping trade volume in the first two month of this year was mainly caused by continued weak global demand and the Spring Festival celebrations in China.
China's foreign trade volume reached $3.96 trillion in 2015, down 8 percent year-on-year, but its foreign trade in goods, export value and total online retail sales ranked first in the world. The country's total retail sales and trade in services ranked second globally during the same period.