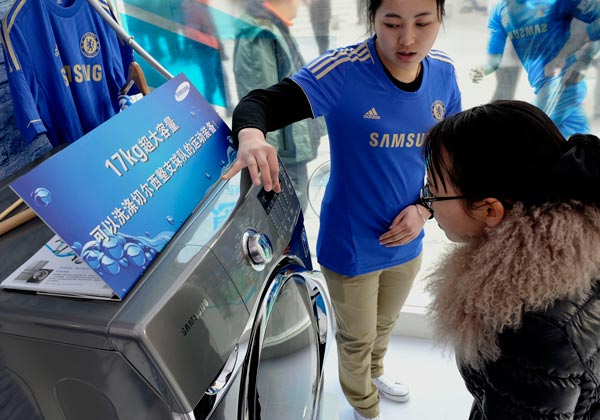 A saleswoman demonstrates the features of a Samsung washing machine at a store in Nanjing, Jiangsu province.[Photo/China Daily]
Industry insiders fear Whirlpool's petition for US anti-dumping duties on made-in-China washing machines of Samsung and LG could have wider implications
China's washing machine manufacturers should mount a pre-emptive defense in the United States to minimize any potentially damaging impact of the ongoing anti-dumping investigation against imports of large residential washers made in China, industry experts said.
The US Commerce Department had initiated the investigation earlier this month in response to a petition by the Michigan-based Whirlpool Corp, a home appliance maker.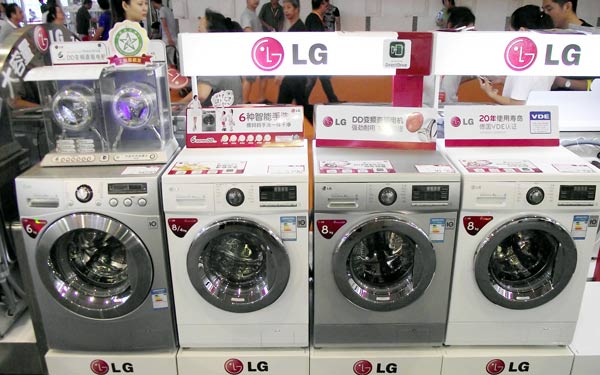 LG washing machines on display at a mall in Nanjing, Jiangsu province.[Photo/China Daily]
Whirlpool alleged that the products made in China by South Korea's Samsung Electronics and LG Electronics were sold below the fair value of such products in the US market. So, Whirlpool pleaded that anti-dumping duty on such made-in-China products be raised from 68.92 percent to 109.04 percent.
Xu Dongsheng, vice-president of the Beijing-based China Household Electrical Appliances Association, said even though the US investigation seemed to be aimed at the two South Korean brands, it could have a financial impact on Chinese washer makers as well, if the plea for higher anti-dumping duty is considered tenable by the US trade authorities.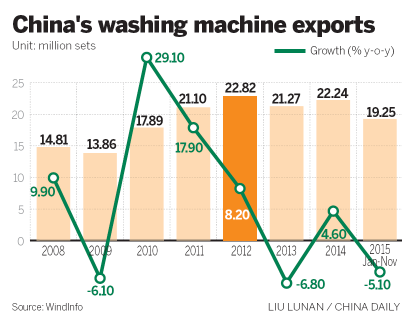 Industry insiders said Whirlpool's move appears to be an attempt to safeguard its position in the US market in the wake of the changing market share pattern in the global home appliances industry.
With their superior technical features, user-friendly designs and competitive prices, South Korean and Chinese home appliances makers have been captivating US consumers for some time now, spooking US home appliances makers.
"Under such circumstances, they try to resort to anti-dumping measures and invoke other trade rules to protect their position in the US market. They accuse foreign companies of dumping without concrete evidence," Xu said.
China's washer industry is the "one of the predominant global contributors to the world market but is confronting trade protectionism", he said. "It does not solve the difficulties facing the industry and does nothing to promote healthy development of the home appliances market."
Whirlpool had filed its petition with both the US International Trade Commission and the Commerce Department. Whirlpool makes both top-loading and front-loading washers, and some components for large residential washers, like cabinets, tubs, baskets and drums.
With the advent of advanced technologies that Asian companies use, consumers the world over have been steadily upgrading to higher-end household electrical appliances. Such a trend is inevitable in the washing machine industry too where high-end, large capacity washers have been acknowledged as products for the future, experts said.
But, any anti-dumping duties now on Chinese companies could not only bar access to the US market but jeopardize their growth prospects, they said.
Xu said any anti-dumping duties by the US could encourage other countries to follow suit, sparking a wave of protectionism. From China's perspective, worse things could entail, like Samsung relocating its washing machine factory from Suzhou and LG shifting its Nanjing plant to other countries.
Such a course of events would have implications for the local economy and employment. Samsung and LG currently employ 20,000 workers at the two factories.
To address the situation, the heads of the China Chamber of Commerce for Import and Export of Machinery and Electronic Products, and the Trade Remedy and Investigation Bureau at the Ministry of Commerce, met earlier this month.
Zhou Nan, deputy secretary-general of the household electrical appliances branch of the CCCME, said the domestic industry should proactively mount a pre-emptive collective defense in the US. It should coordinate its resources and gather information from the government departments, associations, manufacturers and retailers to prove that made-in-China washing machines do not harm the US washer industry.
"Such a defense could help end the ongoing anti-dumping investigation as well as other related probes. Even if the US International Trade Commission rules in favour of anti-dumping duties, Chinese companies can appeal against the ruling lawfully to protect their interest," said Zhou.
In 2012, the US slapped duties on Samsung and LG washers made in South Korea and Mexico after Whirlpool accused that their products were much cheaper in the US or benefited from unfair levels of government support.
Zhi Luxun, deputy director-general of the department of foreign trade at the ministry, said China is increasingly becoming a victim of trade protectionism. Measures by various countries against Chinese products rose significantly between January and November of last year, he said.
As many as 73 trade disputes were filed against Chinese companies between January and November, including 58 anti-dumping cases. These were mainly against the country's steel, household electrical appliances, garment and shoe-making industries. They came amid an overall slowdown in the number and value of trade friction cases.
Twenty-one countries and regions, mostly G20 members, initiated investigations against Chinese products, down 24 percent year-on-year.
"Chinese manufacturers from both the State-owned and private sectors have to not only overcome cumbersome issues such as currency exchange rate fluctuations, rising financing costs, fierce competition with emerging countries in low-end product markets, but tackle various cases generated by trade protectionism," said Zhi.
Manufacturers assess US move
Samsung Electronics Co said it respects the trade rules of the United States, and is confident that the US Commerce Department and the US International Trade Commission will find no infringement on its part with regards to sales of washing machines in the US.
"Samsung is committed to fair competition and providing consumers with choice, and we will continue to bring to market innovative and superior home appliances products that satisfy our customers," said the company's spokesman.
Leading Chinese home appliances manufacturers have not expressed any concerns in the wake of the US Commerce Department's investigation into alleged dumping of made-in-China washers.
In a written statement to China Daily, Haier Group said it is not involved in the products and businesses that are being investigated in the US anti-dumping case. It further said it always adheres to the principle of honesty and complies with local laws and regulations wherever it operates.
Hisense Group, another Shandong-based producer of home appliances, said the impact of any anti-dumping duty will likely be very limited as the investigation is aimed only at South Korean brands, which do not represent the entire industry in China.