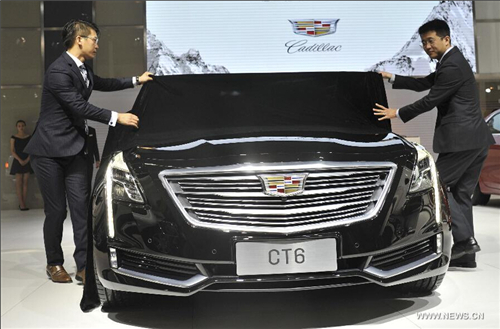 Photo taken on Sept 9, 2015 shows a Cadillac CT6 luxury sedan at Qingdao Autumn International Auto Show 2015 in Qingdao, East China's Shandong province. [Photo/Xinhua]

Country still an important cog in GM's revival plans
Two days after unveiling the first new vehicle from Detroit's Big 3 imported from China, General Motors Co said it also will import the plug-in hybrid version of the Cadillac CT6 luxury sedan to the US from the mainland.
The plug-in hybrid CT6 will be made at a plant in China. GM also plans to make the CT6 at a plant in Detroit.
Sean McAlinden, vice-president for strategic studies and chief economist at the Center for Automotive Research in Ann Arbor, Michigan, said the expected small size of the potential market for the plug-in hybrid CT6 is a major reason why GM will build it in China.
"Hybrid sales were off by 20 percent in the US last year due to low gasoline prices (below $2 a gallon). So the hybrid CT6 would not sell well in the US just like the hybrid Lexus models. We only need a few," McAlinden said in an e-mail.
McAlinden said the Detroit plant where the CT6 will be built "will also start to produce the Chevrolet Camaro next year, which will fill out capacity at that plant".
The plug-in hybrid CT6 will also be sold in China.
"Hybrids make great sense in China compared to electric vehicles because of the heavy use of coal to produce electricity," said McAlinden.
GM's move to sell the two Chinese-made vehicles shows that the company is confident in the quality of the products that are produced on the mainland.
"Longer term, we should see more of this because GM's Chinese operations have every capability required to provide cars for North America," Eric Noble, president of CarLab, a consulting firm in Orange, California, told Bloomberg. "They would import here instead of from Europe because Chinese consumer tastes align more closely to American tastes than Europe's ever did."
Meanwhile, GM's chief US rival, Ford Motor Co, unveiled a new Lincoln Continental full-size sedan on Tuesday at the North American International Auto Show in Detroit. It is scheduled to go on sale in the US and China later this year.
Lincoln is reviving the Continental as part of a multiyear, multibillion-dollar comeback in which China is expected to play a major role.
"We believe there will be a sizable market for this vehicle in the US and China," Lincoln spokesman Stephane Cesareo told China Daily in 2015.
Cesareo said the company hopes to have 60 dealerships in the country by the end of 2016.
"China represents a critical part of our strategy," he added. "Our goal is to develop a strong network of dealers in the country's major cities."