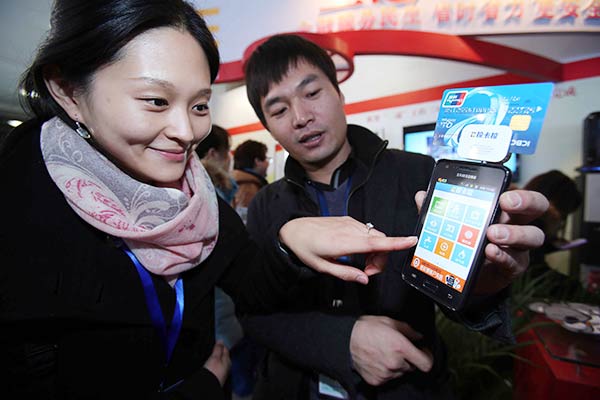 A Lakala Group employee shows a visitor how to use online payment functions on mobile devices at an expo in Beijing.[Photo/China Daily]
Lakala Group, a payment service provider, plans to apply for all seven of China's financial services licenses to become a composite financial group, according to its chairman Sun Taoran.
"It is widely believed that only the top three companies can survive in the online industry," he said. "But that's not applicable to the online financial sector, where any company can find its place and grow, as long as it has the strength.
"It is true, however, that online financial companies find it hard to grow if it focuses on just one area. That's why we are planning to apply for multiple licenses," said Sun.
Lakala received 1.5 billion yuan ($228.9 million) in financing at the start of last year which helped with its wider financial-services expansion.
Sun said the company's first step has been to carefully map out a plan to expand into consumer finance and online banking services.
It has also been devoting more resources to research and the development of online technology, and when both those stages are complete, then it will obtain a number of financial licenses. It has already applied for an insurance license, he said.
Over the past decade, the company has spent around 7 percent of its turnover on developing own systems, helped greatly by an average 80 percent growth in the past five years.
The company's growth rate doubled last year, said Sun, as China's online payment market went into overdrive.
Statistics provided by market consultancy Analysys International show Lakala grew its mobile payments business by more than 28 percent in the third quarter of 2015, much higher than the industry average.
"Lakala has enjoyed rapid growth at this time, particularly in terms of card-based payments," said Sun, but added it is now eyeing much wider services in the online payments market.
Last year it worked on expanding its credit reporting, credit operation and wealth management businesses-again three huge growth areas.
In credit operations, it set up its own small loans company, although Sun ruled out any plans to get into peer-to-peer lending, despite strong growth in that market.
"P2P platforms entail high risk. Only specialist companies that really know what they are doing should conduct such businesses. At Lakala, our number one rule is to control risk."