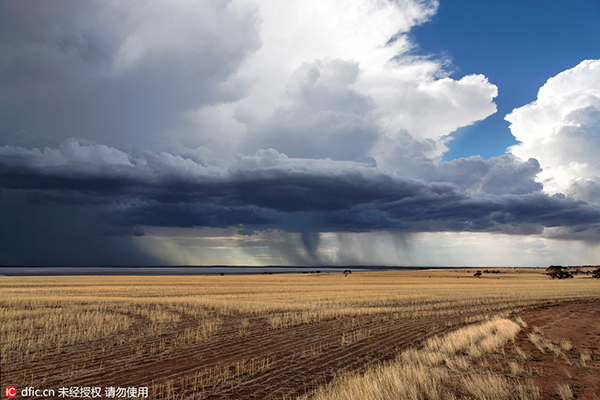 Farmland on a cloudy day in Western Australia. [Photo/IC]
CANBERRA - The Chinese takeover of Australia's largest agricultural land holding, S. Kidman & Co, has received a lifeline, with a local investment company announcing it will partner the Shanghai-based group in the new bid.
Shanghai Pengxin's previous deal to acquire 101,000 square-km of Australian farming land, reportedly worth almost $275 million, was shot down by Australia's Treasurer Scott Morrison last year, after he found it failed to meet the prescribed "national interest" test.
Since the decision, the sale of the vast Kidman empire, which boasts land across South Australia, Western Australia, Queensland and the Northern territory, has remained in limbo.
On Tuesday, however, Australian Rural Capital (ARC) revealed that it had resubmitted a joint bid with Shanghai Pengxin.
"It is the current intention of ARC to seek to raise equity funds in the Australian capital markets which will enable Australian investors the unique and direct opportunity to invest in Kidman in a fund and/or investment company managed by ARC," it said in a statement to the Australian Stock Exchange (ASX).
The ARC is looking to diversify its business operations from just cotton to include beef, sugar, wine and nuts.
Under the revised bid, Shanghai Pengxin will not acquire any of the Kidman group's property in South Australia's Woomera Prohibited Area (WPA), the largest land-based military testing facility in the world.
The Australian government has been reluctant to allow the sale of that stretch of land, which comprises about half of the the group's entire estate, to a foreign bidder, as any successful company would need to gain clearance to access the restricted area.
The new Shanghai Pengxin-ARC bid will be analyzed by the Australia Investment Review Board, before the Treasurer can make another ruling.
However, reports indicate that the sale may be two-horse race, with Hong Kong group Genius Link Asset Management also planning to tender a separate bid.
S. Kidman & Co exports beef to Japan, the United States and throughout Southeast Asia.