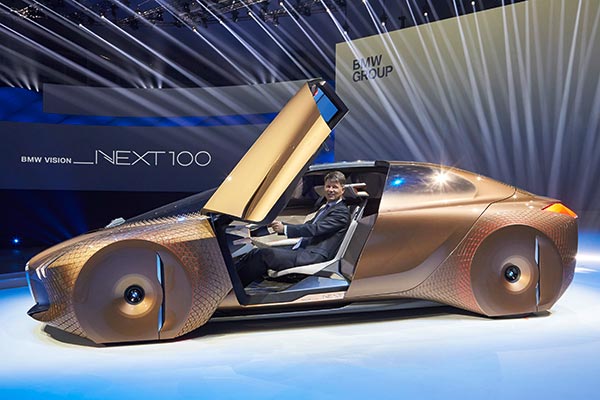 Harald Krueger, chairman of the Board of Management of BMW AG, poses for a photo in the BMW Vision Next 100 ahead of the centenary event in Munich on Mar 7, 2016. [Photo provided to chinadaily.com.cn]
A BMW concept car was unveiled at a world premiere at the centenary event in Munich on Monday, one hundred years after the company registered, as it continues to define itself with a focus on the future and pioneering action.
The BMW AG celebrated its centenary under the slogan "the Next 100 Years", and the celebrations focused primarily on what lies ahead and explores how individual mobility might develop over the coming decades.
"In the BMW Group, we are always on a quest for the best solution. It's part of our DNA," said Harald Krueger, Chairman of the Board of Management of BMW AG, at the event. "It's also the spirit of our collaborations, a recurring theme that permeates our corporate and leadership culture."
"We have demonstrated on many occasions throughout our history that we are capable of learning fast and taking bold steps."
The Munich based group believes three qualities set it apart: the capacity to learn and adapt, technological innovation, and a sense of responsibility toward society.
"Future mobility will connect every area of people's lives. And that's where we see new opportunities for premium mobility," Krueger added.
The premium carmaker's Vision Next 100 generated a futuristic scenario with a clear vision: premium mobility will be comprehensively available and tailored to every customer's individual preferences, according to the company
The concept car on display combines coupe-type sportiness with the dynamic elegance of a sedan, rather than being an anonymous transport machine, it is a highly customized vehicle that is perfectly tailored to suit the driver's changing needs.
Driver-vehicle interactions are managed by Alive Geometry; Boost and Ease modes offer a choice of driver-controlled or vehicle-controlled operations, and the interior of the vehicle changes to suit the mode of travel.
Adrian van Hooydonk, head of BMW Group Design said: "If, as a designer, you are able to imagine something, there's a good chance it could one day become reality. So our objective with the BMW Vision Next 100 was to develop a future scenario that people would engage with."
The BMW Vision Next 100 will go on a world tour entitled "Iconic Impulses" stopping in China, the United Kingdom and the United States. After its Asian premiere in Beijing, it will travel to London, where the Vision Vehicles of the BMW Group's British brands – MINI and Rolls-Royce – will be unveiled. Its last port of call will be Los Angeles, US, where BMW Motorrad will add its Vision Vehicle to the collection to complete the quartet of brands.
The BMW Group is also enhancing its commitment to social responsibility. BMW Foundation Herbert Quandt, will be increased by 50 million euros ($45 million) to a total of 100 million euros. In addition, annual donations will be made to support project work. In 2016 this financing will amount to another 5 million euros. Further financing will be provided by major shareholders Stefan Quandt and Susanne Klatten, who will support project work with an additional 30 million euros.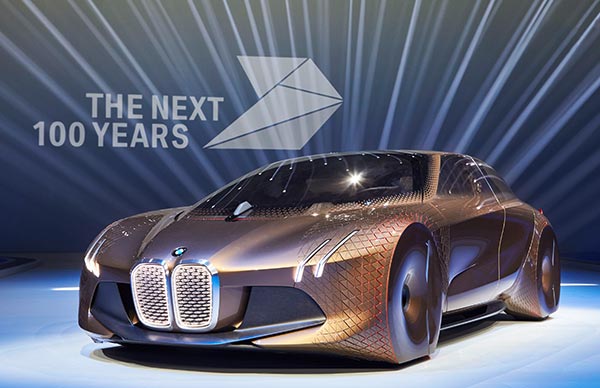 The BMW Vision Next 100 is pictured. [Photo provided to chinadaily.com.cn]