Power to approve large-scale transportation projects given to provincial governments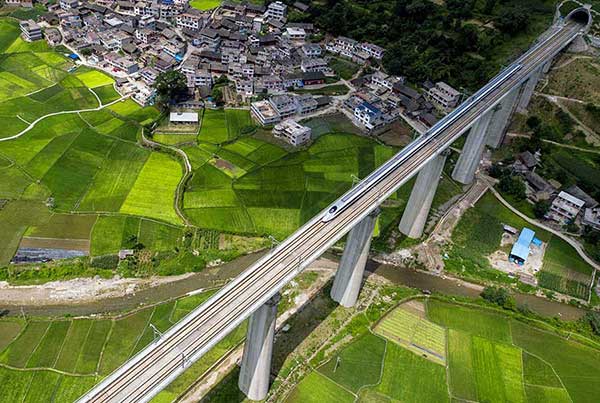 An aerial photo shows a high-speed train travelling through the countryside in Kaili, Guizhou province, on June 22, 2016. [Photo/Xinhua]
The nation's top economic regulator plans to decentralize administrative approval of large-scale transportation projects to provincial governments, a senior official with the regulator said on Wednesday.
To help revive economic growth, private projects do not need to be approved by the commission, according to Zheng Jian, deputy head of the Infrastructural Construction Department under the National Development and Reform Commission (NDRC).
Private fixed asset investment grew by only 3.2 percent year-on-year in 2016, which is much lower than the 18.7 percent growth of state-owned firms during the same period, according to National Bureau of Statistics.
Only transportation projects that cross provincial boundaries have to receive approval from the NDRC, but cross border projects still need to be approved by the State Council, Zheng said.
Zheng added the commission would simplify and cancel administrative approvals at the central government level "to the largest extent", reaching all transportation projects in the future, including airport and road construction. However, he did not provide a specific timeline for the reform.
The simplification and decentralization of approval follows Premier Li Keqiang's comment earlier in May that the government needs to streamline administrations and delegate powers to local governments, providing better services to enterprises in order to achieve accelerated growth.