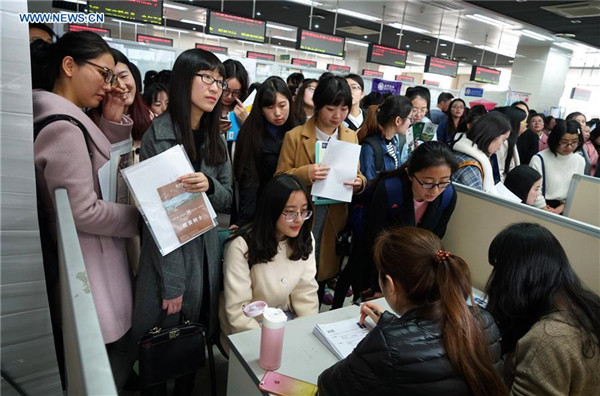 Female college students participate in a job fair held particularlly for them in Nanjing, capital of east China's Jiangsu Province, Mar 5, 2016. Some 5,000 job opportunities were provided to female college students at the fair marking the coming International Women's Day on March 8. [Photo/Xinhua]
A latest PwC survey found that 74 percent of females in the Chinese mainland and Hong Kong said the opportunities for an international experience are a driving factor in keeping them with an employer.
PwC surveyed 3,937 professionals from 40 countries, including 170 respondents from the Chinese mainland and Hong Kong, to find out about their international mobility experiences and aspirations. In parallel, PwC surveyed 134 executives with responsibility for global mobility to explore current mobility, talent management and diversity trends.
The report highlights that professionals are experiencing a time of unprecedented female demand for mobility, but this demand is not yet reflected in reality. More than half of global mobility executives said their female employees were underrepresented in their mobility populations.
While 60 percent of multinationals are using mobility to develop their succession pipeline of future leaders, only 22 percent are actively trying to increase their levels of female mobility.
The PwC report challenges certain assumptions and gender stereotypes, for example that women with children do not want to work overseas or that women do not want to move because it will put their partners' higher income at risk.
In fact, 41 percent of global female respondents who said they want to undertake an international assignment are parents, and 78 percent of women in a dual-career couple earn equal to or more than their partner.
When looking at the professional concerns women have when considering an international assignment, nearly 60 percent of female respondents from the Chinese mainland and Hong Kong said they are most concerned about what role they will return to at the end of the assignment.
Zhou Xing, PwC's Chinese mainland and Hong Kong diversity leader, said, "To attract, retain and develop female talent, international employers must adopt a modern, more flexible approach to mobility. A gender-inclusive mobility program will include a world-class repatriation program, together with flexibility, choice and options around assignment duration and package."
The survey also found that 84 percent of females in the Chinese mainland and Hong Kong would like opportunities to work overseas to be more transparent at the companies they work for, higher than the global finding at 65 percent.