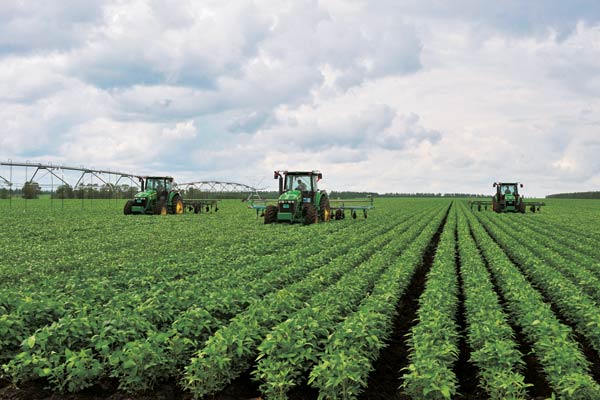 Large tracts of land under cultivation and farm cooperatives help in efforts toward modern agriculture. [Photo/China Daily]
BEIJING - An annual rural work conference concluded on Friday, agreeing to push forward supply-side reform in agriculture to speed up modernization.
China will ensure abundant and quality farm produce to satisfy market demand, according to the Central Rural Work Conference that mapped out rural work for 2016 and the 13th Five-year Plan period (2016-2020).
Priority should be given to reduction of inventories and production costs and overcoming weaknesses in the sector, according to a statement released after the conference.
China will step up grain processing to cut stock; promote large-scale production, curb overuse of pesticides and fertilizers and introduce social services to slash costs; reinforce rural infrastructure and boost shortly-supplied farm produce to overcome weak links.
"By initiating supply-side reforms, policy makers hit at the crux of modern agricultural development," said Cheng Guoqiang with the Development Research Center of the State Council.
After years of good harvests, China has grown out of a food shortage period, but structural problems remain unsolved, including the contradiction of falling prices and rising costs: some produce is over-supplied and some in extreme shortage.
Total grain output increased 2.4 percent year on year to 621 million tons in 2015, the 12th straight year of growth. However, inventories are piling up. It is estimated that China has accumulated billions of tons of grain stock. Corn alone has reached 400 million tons: a bottleneck and needs reforms on the supply side.
President Xi Jinping said in his instruction that China's agricultural and rural development still faces many challenges, and that greater efforts should be made to support rural development and advance rural reforms.
In a written instruction, Premier Li Keqiang told the conference that to address new problems, China should optimize the agricultural structure and promote large-scale production in multiple forms to improve quality and competitiveness of agriculture.
Li said China should accelerate construction of rural infrastructure, improves facilities and services in villages and urban areas favored by rural migrants, and promote coordinated urban and rural development.