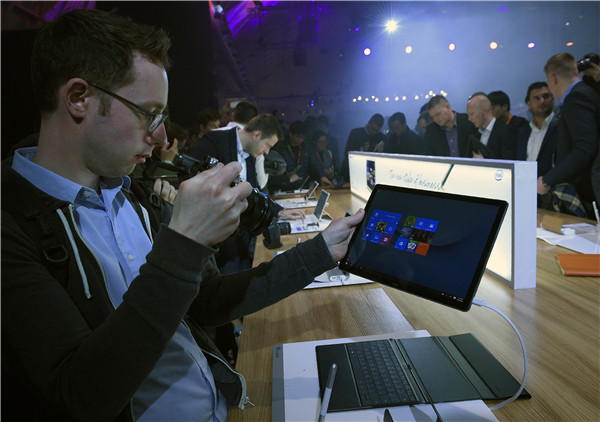 Visitors take pictures of a MateBook during a presentation of Chinese multinational networking and telecom equipment and services company Huawei Technologies Co Ltd on the eve of the official opening of the Mobile World Congress in Barcelona on Sunday.AFP

New product poses challenge to Apple and Microsoft
Huawei Technologies Co Ltd has unveiled its first convertible tablet to challenge market leaders Microsoft Corp and Apple Inc in the largely stagnating personal computer market.
Its new product, the MateBook, features a 12-inch touch screen that is slightly smaller than Microsoft's Surface Pro 4 and Apple's iPad Pro.
But the new device is lighter and less expensive than both of its rivals, said officials.
The MateBook is selling at $699 for entry-level configuration while the cheapest iPad Pro and Surface Pro 4 cost $800 each.
Like its two most-obvious competitors, the MateBook comes with a detachable keyboard so it can be used as a tablet and a small-sized laptop-a so-called "2-in-1" device.
To be on sale by April, officials hope it will help the Guangdong-based company attract business users who also have light-entertainment needs, including watching movies.
"We have launched this product to answer the needs of business users. Our MateBook's major selling points are its compatibility and huge variety of functions," said Glory Zhang, chief marketing officer of its consumer business unit, speaking at the Mobile World Congress in Barcelona.
The MateBook uses Intel Corp's power-efficient M-series processors, meaning Huawei has traded off some processing power for longer battery life and lower prices.
Although the MateBook is being launched later than other comparable tablets, Zhang said Huawei's strategy is to introduce more sophisticated products to better satisfy its customers' ever-shifting needs.
"We are not so concerned about being the first in a market.
"When we launched our smartphone, the market was already busy. Our high quality will allow us to win market share," Zhang said.
The 2-in-1 sector is expected to become the silver lining of the global PC market, which saw a 10 percent fall in shipments during the last quarter of 2015, according to International Data Corp, the industry research company.
CK Lu, principal analyst at consulting firm Gartner Inc, said the sector is seen as offering huge growth opportunities for vendors, including Huawei.
Gartner estimates shipments will grow 32.5 percent year-on-year from 2015 to 2019, the fastest growth segment in PC market.
"The device market needs new entrants as traditional PC vendors like Toshiba Corp and Fujitsu Ltd scale back their businesses.
"As such, a mobile phone manufacturer can leverage its strengths in mobile industrial designs, new products and new business models," Lu said.
Established as a telecom equipment maker in 1987, Huawei has been expanding its smartphone and wearables businesses in recent years.
It is now the second-largest handset maker in China by market share, after Xiaomi Corp.
Huawei's founder Ren Zhengfei said in January the company is aiming to grow its annual sales of consumer electronics to $100 billion within five years.
The privately owned firm said its smartphone business generated $20 billion in revenue in 2015, a 70 percent surge compared to a year earlier.
Cecily Liu in Barcelona contributed to this story.