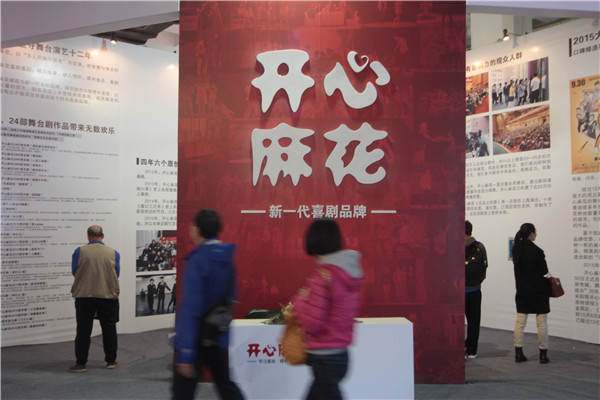 The Beijing Fun Age Entertainment Co Ltd stand at the China Beijing International Cultural& Creative Industry Expo in 2015.CHINA DAILY
Shares in Beijing Fun Age Entertainment Co Ltd, the comedy stage show and film company, are now worth 44 times what they were when it launched on China's third national equity exchange a month ago.
According to a statement from Fun Age Entertainment, 2.84 million shares were issued at 106 yuan ($16) each, bought through private placement with 11 investment institutions and individual investors.
The National Equities Exchange and Quotations, or so called New Third Board, is China's third biggest equity market, and is popular among micro, small and medium-sized companies.
Last month, Fun Age Entertainment's Chairman Zhang Chen bought 1.52 million shares in the business at 2.4 yuan per share through a private placement.
After a second private placement, the company's valuation is now believed to be 5 billion yuan, compared with 107 million yuan in January.
"The New Third Board is market-oriented, and so a big price change such as this is normal," said Liu Achang, an investment manager at Beijing-based JD Capital.
Liu said that investors in the New Third Board are professional institutions and individuals, and that their trading has become more mature.
Qualified institutional and individual investors at the New Third Board must each have investable funds of more than 5 million yuan.
Wang Cheng, a 29-year-old investor who has been investing in the New Third Board for two years, said although Fun Age Entertainment's two placements are vastly different, there is still strong investor interest in the company.
Its first film was the comedy Goodbye Mr Loser, which had no big stars and many actors making their screen debuts.
But it still managed to rake in 593 million yuan at the box office over the National Day holiday last year.
"The biggest problem for the Third Board is liquidity and early exits by investors," said Wang.
He added that the investor threshold is also considered high and so trading has not been as active as some had expected.
"If current participants cannot exit, no new comers will come in."