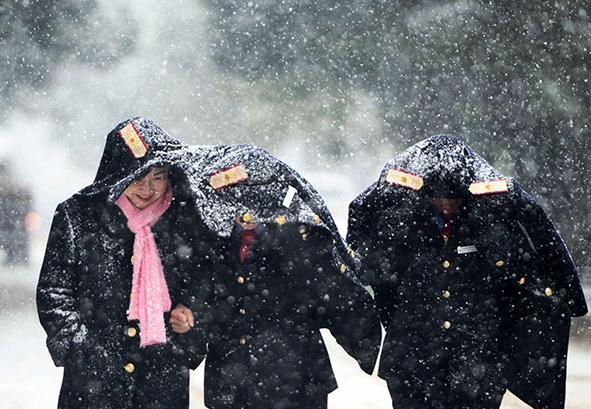 Railway workers in Nanchang, Jiangxi province, brave a snowstorm on their way to work on Jan 21, 2016. [Photo / China Daily]
As extreme cold weather swept across China last week, bringing the lowest temperatures recorded in decades, it also brought a boost to the "frozen economy", the Beijing Morning Post reported on Wednesday.
Due to the cold wave, 53.4 percent of participants purchased new warm clothing, with nearly 40 percent of people spending over 500 yuan ($75.95), the newspaper said, citing a survey published on Suishouji finance BBS.
The survey found 19 percent of respondents spent 500-1,000 yuan, 9 percent 1,000-2,000 yuan, 6.2 percent 2,000-5,000 yuan, 2.4 percent 5,000-10,000 yuan, and 0.4 percent even spending over 10,000 yuan.
The cold weather affecting many areas of China forced people to scurry out to buy new warm clothing and brought a surge in demand for warm underwear and down jackets.
The latest data from Taobao, China's largest online shopping platform, showed that between Jan 17 to 23, online searches for down jackets rose by 50 percent, while sales increased by 60 percent.
A top-selling Taobao store sold almost 500 "Ultraman down jackets" which are very popular on the Internet, during the week when the temperature reached record lows in many places.
Besides down jackets, heaters, electric blankets and heating pads were also on the bestseller lists.