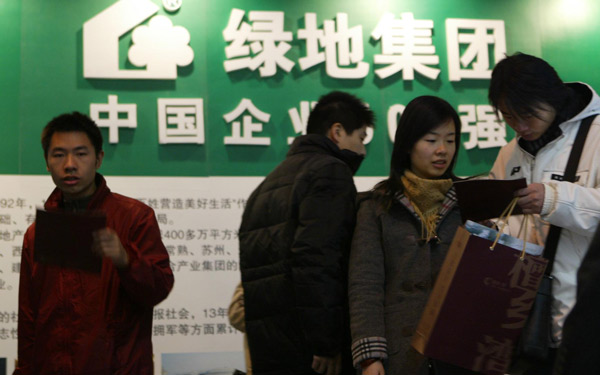 A Greenland Group stand at a property expo in Shanghai.[Photo/China Daily]
Municipal government officials in Shanghai have expressed their determination to speed up the ongoing reform of State-owned enterprises by helping a number of SOE groups go public this year.
At the annual session of the city's legislature, Mayor Yang Xiong said that the government will help promote a number of SOEs to go for overall listing or listing of their core assets.
Qualified SOE groups should complete their corporate system reform this year. A system for the hiring of professional managers should be set up within SOEs. State-owned assets should concentrate on areas including strategic industries, modern service industry, advanced manufacturing industry, infrastructure and social well-being.
Yang also said that the government should provide a better environment for non-public sectors of the economy. Non-State-owned assets should be introduced into SOE reform. Privately owned enterprises should be allowed to enter more areas, getting support to develop their own core technology and brands.
Shanghai has been carrying out the SOE reform at a faster speed ever since it rolled out detailed 20 regulations in 2013. According to public information, seven Shanghai-based SOE groups have finished overall listing.
The year 2015 was quite fruitful in terms of the capitalization of SOEs. Greenland Group, Shanghai Urban Construction Group and Shanghai Xian Dai Architectural Design (Group) Co Ltd finished overall listing while Shanghai Huayi (Group) Company and Lingang Group saw their core assets go public last year. A total of six State-owned financial enterprises went public last year, which means that 71 percent of Shanghai's State-owned financial assets have finished capitalization.
At least 65 percent of Shanghai-based SOEs or related companies have adopted a hybrid ownership by the end of last year, taking up 58 percent of the total assets amount and 93.4 percent of net profit.
Property investment and development company Shanghai Lujiazui Finance and Trade Zone Development Co Ltd unveiled SOE reforms this year. On Jan 22, the company suspended trading and announced that the State-owned Assets Supervision and Administration Commission of Shanghai Pudong New Area People's Government is planning important matters related to the company.
Ning Jingbian, an analyst with China International Capital Corporation Ltd said that the company has taken the lead concerning SOE reform, sticking to the policies provided by Pudong New Area where the company is based.
Xu Huchu, president of consulting firm Strategy & Greater China, advised SOEs which are conducting reform plans should first go through all their business interests, clarify all the relevant property rights, make a clear orientation of the headquarters, and come out with a specific operational model.