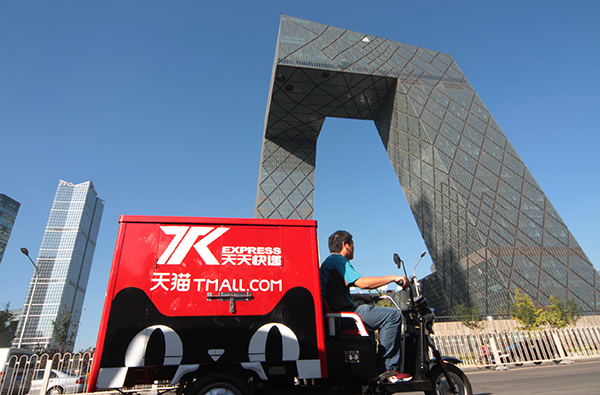 A delivery cart with the logo of Tmall.com, Alibaba's B2C platform, passes the CCTV building in Beijing. [Wu Changqing/China Daily]
E-commerce giant Alibaba Group Holding Ltd is expected to add 200 personnel in an effort to up its game in the fight against counterfeit products, the company's senior executive said on Monday.
Zheng Junfang, an Alibaba partner, announced that Alibaba will add 200 people to cooperate with Chinese government organizations to crackdown on counterfeit products online, despite the group's earlier announcement to strictly control its recruitment quota in fiscal year 2015.
Zheng made the announcement when she gave her first media interview as the group's chief platform governing officer, a role responsible for cracking down on fake products online and protecting intellectual property.
She said counterfeit products are the "tumors of society". "Counterfeit products are a challenge faced by all e-commerce platforms," Zheng said.
According to her, Alibaba used a combined method to fight against fakes. On one hand, Alibaba uses big data technology to trace the sources of fake products and reports the information to Chinese authorities. On the other hand, the company supports the growth of self-developed brands online.
According to Alibaba, it has invested more than 1 billion yuan ($154 million)in fighting against counterfeit products on its online platforms. It has about 2,000 full-time employees responsible for fighting fakes and 3,000 part-time volunteers.
The new development in fighting against fakes comes days after the Office of the US Trade Representative said it was "increasingly concerned" about Alibaba's measures to tackle counterfeit products and that more needed to be done.
Alibaba did not reply to the comment, but last Monday it announced it was hiring Matthew Bassiur, vice-president and deputy chief security officer at United States drugmaker Pfizer Inc, to head its global intellectual property enforcement.