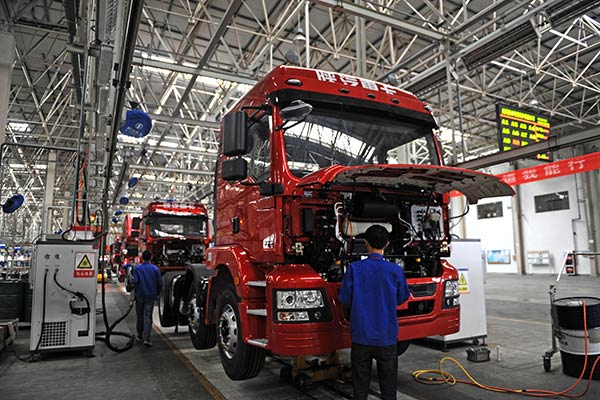 Shacman truck production line at Shaanxi Automobile Holding Group in Shaanxi province.[Provided to China Daily]
Infrastructure work in Africa raises demand for big construction equipment from China
Andrew Mambo reckons he has his fingers on the pulse of the motor industry in Kenya. Mambo, general manager of sales at AVIC International Beijing's motor division in the country, has worked in the industry for 15 years.
The entry of Chinese-made construction equipment is now eating into the huge market share that European brands have traditionally enjoyed, he said.
Last month, the company surpassed its annual sales target for heavy-duty construction vehicles. For Shantui branded machinery, the sales trajectory has been an ever rising one, he said, with 110 units having been sold last year, compared with 90 in 2013. Mambo said he expects 120 to be sold this year.
"I believe we are the market leaders," Mambo said.
That success has encouraged the Beijing-based firm to expand its product offering. On Nov 7, it announced the launch of AVIC-Shacman, a joint venture that will deal in tip trucks and prime movers. Shacman, whose full name is Shaanxi Automobile Holding Group, is well known for advanced heavy-duty vehicles, and it has a presence in South Africa, Ethiopia and Algeria, where the company says it had sold more than 8,000 trucks by last year. Its headquarters is in Xi'an.
AVIC International also has partnerships with Shantui Construction of Shandong province and JAC Motors of Anhui, all of these ventures allowing AVIC to become a one-stop shop for equipment used in infrastructure projects.
Shacman entered Kenya in 2006 after winning a tender from the Kenyan Ministry of Defense for 400 military trucks and after one of its trucks won a 15-day rally.
Last year, it delivered 105 trucks to the National Youth Service, a government paramilitary training outfit in Kenya. The trucks are used in construction work and disaster relief.
"Half of our incoming orders have already been sold," Mambo said.
Shadrack Malusha, director of Shaluma Enterprises, a construction company in Mombasa, is in the process of buying 30 Shacman trucks.
"I am investing about $1.6 million. Once the market realizes the value of these trucks, I think they will cost a lot more and I will have done well to invest in them."
Mambo said that because of his long spell in the industry, he has cultivated good relationships with financial institutions.